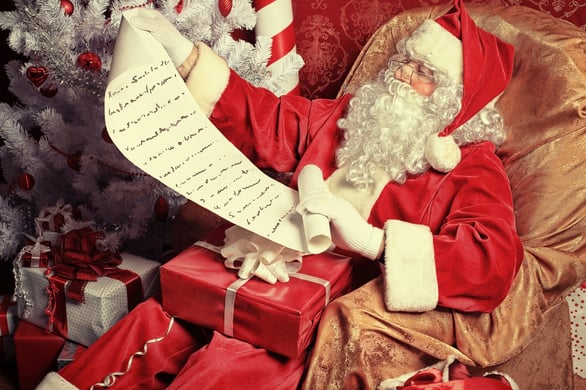 IT'S THE HOLIDAYS:
The holiday season is a great time to spend relaxing and enjoying life with friends and family, but many times we feel more stressed trying to get our list of things to do DONE before we head out. Just like that Out-of-Office email responder, it is something we as working professionals normally do before we take our break, and there are many other things I'd like to do before I check out of my office. Therefore, I would make a list and check it twice, since it would be nice to not be interrupted on my vacation for things that I consider naughty to not have done.
---
HERE'S MY LIST:
Just like the OOO auto-responder, I'd like a bunch of SAP Basis Automation tasks in place, although not everything could be put in auto-pilot mode, hey but that's why I also have my 'WISH LIST' :-)
1. Basis housekeeping
Yes this list of jobs that run to keep the system clean and optimal should be checked that they are running error free and scheduled as needed. There are also SAP business suite specific lists too for each type of solution you're running
Every SAP shop would also have it's set of custom housekeeping to do, so include them, scripts and all. Here's a set of ideas that I typically
2. Review & Adjust Maintenance Schedules
If you have automated maintenance like system restarts, backups, archive, snapshots or similar that you often run, you should review if their schedule should be changed during the holidays based on business calendar needs, or simply they don't need to run as often or at all while you're away
3. Analyze and assign extra capacity
While you're away, why not assign extra capacity if you have them to ensure you don't run out of space and other computing resources such as CPU and memory.
If you have usage and trend reports, use them to estimate your needs for the period you're away. Remember that some businesses actually have higher demands during the holidays to cater for peak usage cycles like year-end processing.
4. Review Service Levels
Service Level Agreements sometimes have different objectives for different usage periods or holiday. Make sure that you are monitoring your service levels of availability and performance according to the scheduled agreement, including alerts and notification requirements
Include key SAP workload performance monitoring in your SLA monitoring to ensure business-critical processes are performing as expected and alerted if not
5. Self-healing Automated Recovery
If you have tested recovery actions for known situations, implement them so that the minions can take care of issues as first level response to avoid service impact. An example of one is the HANA memory management which can clean up garbage when HANA service usage exceeds some configured threshold
6. Extra Monitoring with Synthetics
Whether you're sitting at your PC and keeping tabs on certain performance metrics or you're away on vacation, you would benefit from automating some synthetic transactions to test those critical business functions. These synthetic transaction monitoring can probe the status and response/latency of items like transactions, batch jobs, URLs, Interfaces, RFC destinations.
7. Schedule Automated Reports & Delivery
I like my daily reports emailed to me about the health of my services and applications so I can glance at them without having to log on to a system to check, but I can click on them and get in to the report for interactive dive if I want to. This is essentially automating my checklist and letting my know by ways of a health check. It can include basic things like backup reports, performance charts, utilization reports, etc
These reports can also be included in automatic distribution to my team or management if needed for transparency and personnel coverage.
8. Review & Adjust Notification Subscriptions
When I'm in the office, I tend to want more information during my working hours to keep me updated on what's happening with the services I manage, however, if I'm out of the office, perhaps I only wish to get higher levels of details when there's actually impact to services and end user experiences. So, I adjust my level of subscriptions to exception notifications and I get less noise.
---
WHAT'S YOUR LIST LOOK LIKE:
I must admit my list used to be longer, but many of them have moved from my wish list over to what is now by doable list. I hope they give you some ideas to increase your relaxation time away from the office for the holidays.
What's in your wish list? Maybe you can move some of them over to the checklist and leave room on the wish list for more important and fun things with family and friends. Peace!
---