As a trusted MSP, T-Systems plays a vital role in ensuring the smooth operation of Zuellig Pharma's critical systems and digital transformation, including its intricate SAP landscape. With a focus on optimizing its distribution and supply chain processes, Zuellig Pharma's reliance on SAP technology has grown considerably. Today, they're one of SAP's largest pharmaceutical companies in the world with a complex SAP ecosystem hosted in the cloud with very big SAP HANA Multitenant databases platform.
Business Challenge
Zuellig Pharma's highly sensitive and secure SAP environment needs to be patched, updated and restarted on a regular basis for compliance, posing downtime and resource challenges during the limited maintenance windows. Every minute costs the business a large loss of productivity and has real financial impacts. Navigating the complexities of this environment, especially with the need to stop a mass number of SAP systems and their underlying HANA tenant databases, presented significant challenges. Zuellig Pharma recognized the need for a solution to streamline its operations and ensure the uninterrupted flow of critical information. This is where IT-Conductor stepped in to enable a solution that would transform Zuellig Pharma's SAP landscape.
Zuellig Pharma's SAP ecosystem comprises various SAP products with an intricate network of HANA databases, where multiple tenant databases coexist alongside the system database. The challenge was to create an automated solution that allowed Zuellig Pharma to stop only a specific SAP system and its associated HANA tenant database while keeping other tenant databases and the system database operational. Other manual or traditional methods of stopping and starting the entire system presented a significant risk of service disruption and downtime, which was unacceptable.
Introducing IT-Conductor's solution, which makes use of start/stop automation to allow for a better management of Zuellig Pharma's SAP landscape.
This approach enabled Zuellig Pharma to stop individual SAP systems and their corresponding HANA tenant database while ensuring uninterrupted operations of other tenant databases and the core system database. The stop/start operation can also be executed at scale by using IT-Conductor's Scheduling mechanism. IT-Conductor's approach involved the creation of automation workflows that orchestrate the shutdown operations seamlessly.
IT-Conductor's Approach at Start/Stop Automation Workflows
IT-Conductor allows users to automate the Start/Stop process of SAP and non-SAP systems. It can be applied to a single system or multiple systems and can be manually executed or scheduled. This feature is highly adaptable to any customer environment and can be a crucial component of IT maintenance operations.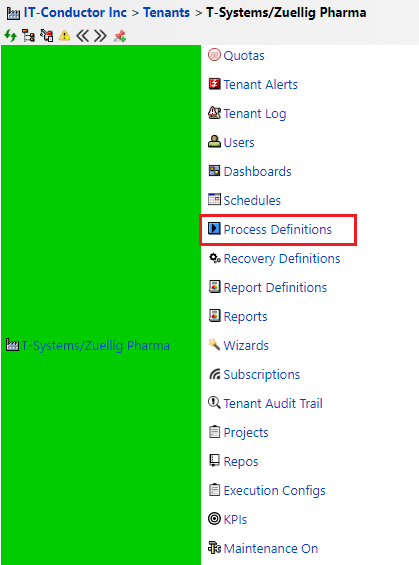 Figure 1: Zuellig Pharma's Tenant Grid
The "stop" part of the workflow designed by IT-Conductor follows a two-step process. First, the SAP application would be shut down, followed by the targeted tenant database. The "start" operation follows the reverse process. IT-Conductor achieves this by making use of process definitions, which is the core of the start/stop process. It is where the automation instructions are coded. One or more Activities within a Process Definition make up a template for a workflow, and the end user can launch the workflow through the start/stop wizard.

Figure 2: Process Definitions for Start/Stop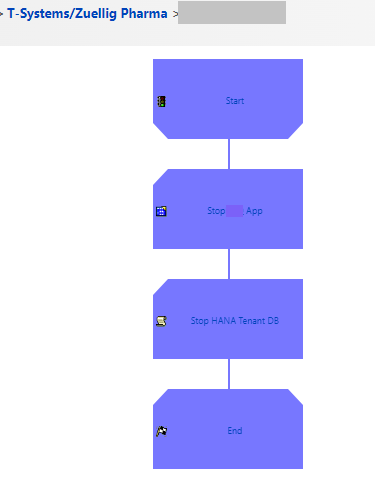 Figure 3: "Stop" HANA DB Process Definition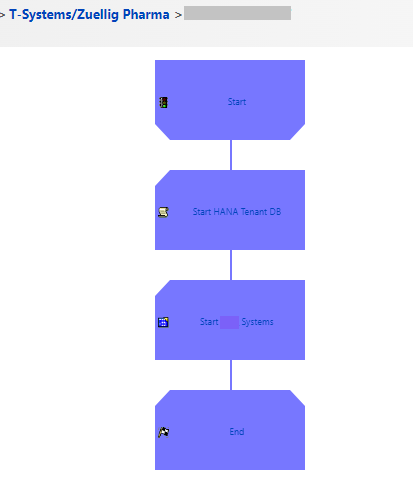 Figure 4: "Start" HANA DB Process Definition

Figure 5: Scheduling screen for process definitions
These wizards can be exposed to the user in many ways such as on a Dashboard panel as a tile or a list item, or they can be part of a Service Catalog.
Rigorous testing was conducted in the development and QA environments to ensure the efficacy of this approach. The final product was the achievement of a mass stop/start operation of specified systems and/or tenant databases that can even be scheduled in advance. This capability ensured that Zuellig Pharma's routine maintenance and updates could be executed without impacting daily operations.
Benefits
Zuellig Pharma obtained a number of benefits from their partnership with IT-Conductor, from which we can highlight the following.
The capability to stop/start an SAP system and a single HANA tenant database allowed selective restart and avoiding manual and error-prone processes, leading to enhanced operational agility.

Minimized downtime accelerated by automated workflows.

Overall SAP management process was significantly streamlined and secured via web-based GUI and wizards removing the need for IT operations team console access to the systems.

Automation of mass operation of the stop/start process, resulting in time savings.

Accountability via Audit logs of start/stop operations within allowable SLA planned maintenance windows.

Scheduling of this operation can be initiated during a defined maintenance window.
This translated to cost savings, heightened efficiency, and a better user experience for both employees and customers.
Conclusion
The start/stop automation solution not only resolved a complex challenge but also demonstrated the power of embracing automation technology to obtain operational excellence in the pharmaceutical distribution sector. As Zuellig Pharma continues its mission to bring healthcare solutions to the world, IT-Conductor stands as an example of technological and transformative advancement.