Welcome to the Q2-2023 edition of IT-Conductor's latest automation features. We have curated a selection of the most popular features from the previous quarter that will greatly benefit end users. These features include converting dashboards into reports and implementing single sign-on (SSO) login. Designed with user-friendliness in mind, these enhancements are guaranteed to elevate your overall IT-Conductor experience and help you make the most of its functionalities. We invite you to explore these features and share your feedback with us.
Furthermore, we are thrilled to share some exciting news and upcoming IT-Conductor events with you. Make sure not to miss out on these valuable updates towards the end of this blog.
1. HANA Host CPU and Memory Monitoring
IT-Conductor is proud to introduce a specialized monitoring feature designed specifically for HANA host CPU and memory utilization. These two performance indicators play a vital role in HANA monitoring, and we have developed a dedicated solution to ensure you have a comprehensive understanding of your system's performance.
Recently, one of our valued customers successfully migrated their HANA workloads to the cloud. Prior to the migration, they leveraged the functionalities provided by IT-Conductor to benchmark the performance of their systems. Subsequently, by utilizing IT-Conductor's monitoring capabilities to closely observe key performance indicators (KPI), they were able to identify and quantify notable enhancements in system performance.
Accessible via the HANA Service Grid within IT-Conductor, these insightful charts provide valuable metrics such as I/O throughput and available physical memory. They enable you to stay informed and make informed decisions regarding your system's performance.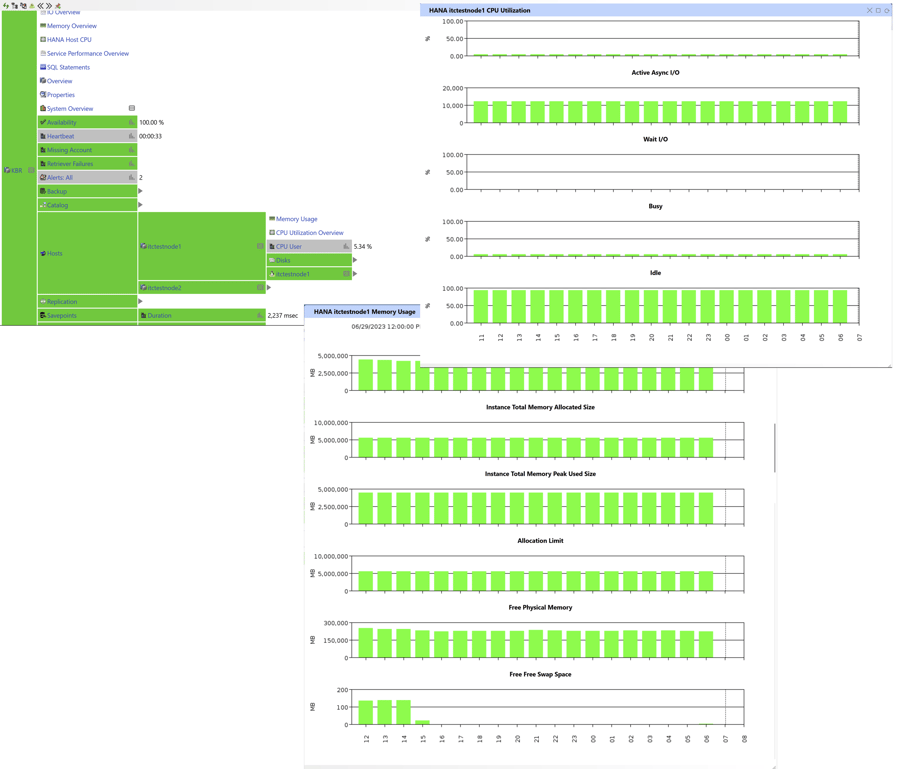 Figure 1: HANA Host CPU & Memory Charts
2. Dashboard-generated Reports
The IT-Conductor Dashboard is designed to present KPIs through visually appealing graphs, charts, and tables. Furthermore, it may include additional functionalities such as service catalogs and other functionalities relevant to specific IT processes. These dashboards can be broadly classified into pre-defined and custom dashboards.
Figure 2: SAP Change Management Dashboard
While navigating through IT-Conductor, you may discover opportunities to transform certain dashboards into reports. With the latest dynamic dashboard report feature, this process becomes incredibly simple and efficient, requiring just a few clicks. By converting dashboards to reports, you gain the flexibility to present and share data with multiple recipients via e-mail. These reports can also be instantly viewed in IT-Conductor. This feature provides you with the convenience of ad hoc reporting, enabling you to deliver timely and insightful information to management and stakeholders.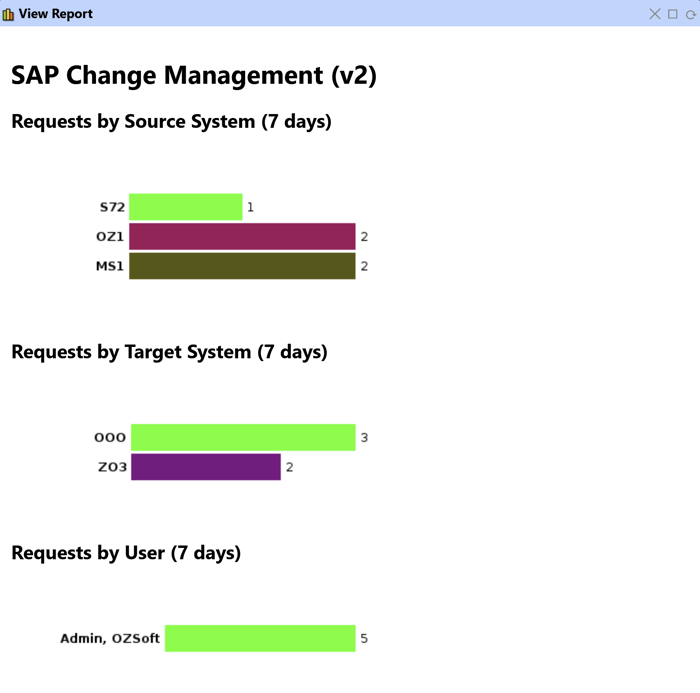 Figure 3: Dashboard Dynamic Report
3. Single Sign-On (SSO) Only Login
IT-Conductor now supports SAML 2.0-based Single Sign-On (SSO), enabling you to leverage your existing identity provider (IDP) for authentication and access management. With SSO, you can log in to IT-Conductor using your IDP without the need to maintain or remember separate credentials. This streamlined user experience simplifies access to IT-Conductor's functionalities and solutions, eliminating the hassle of managing multiple credentials and improving user satisfaction.
If a tenant in IT-Conductor is configured to exclusively use SSO mode, password-based login is not permitted. This enhances security by ensuring secure communication between the IDP and the service provider (IT-Conductor) through digital signatures and encryption. Other benefits include centralized access control, auditability, and Compliance.
One of our customers productively uses SSO-only login with IT-Conductor's SAP Transport Automation solution, ensuring seamless authentication for users and streamlined operation of their SAP transports automation.

Figure 4: SSO Identity Provider in IT-Conductor
Enabling SSO in IT-Conductor is a simple process, and if you require assistance, you can reach out to IT-Conductor Support.
For more information on how to configure Azure AD SSO in IT-Conductor, please refer to the SSO Setup Documentation.
News
Patent Announcement: We are thrilled to announce that IT-Conductor has been granted a patent for its cloud-based application and performance management automation platform. You can find the press release at the following link: IT-Conductor's Patent Press Release.
Jordi Conrado On-boarded as Business Development Advisor: IT-Conductor has welcomed Jordi Conrado as its new business development advisor. With his expertise, we aim to deliver innovative solutions, establish strategic partnerships, and drive customer success. Learn more about Jordi Conrado's role in our blog post: Introducing Jordi Conrado as Our New Business Development Advisor.
Upcoming Event
Mark your calendars for an exciting event hosted by IT-Conductor on Tuesday, August 15, 2023, from 9:00 AM to 10:00 AM (UTC-07:00) Pacific Time (US & Canada). This event promises valuable insights and is not to be missed.
AWS PartnerCast: Automated End-to-End SAP Migration from On-Premises to AWS with IT-Conductor: Discover how IT-Conductor enables automated end-to-end SAP migration from on-premises to AWS in our upcoming AWS PartnerCast. Find more information about this event here: AWS PartnerCast: Automated End-to-End SAP Migration.
You can also download the Definitive Guide to Cloud Migration. This comprehensive guide offers valuable insights and expert advice on successfully navigating the complexities of cloud migration.