Welcome to the Q3-2022 edition of IT-Conductor's latest automation features. In this penultimate edition, we attempt to address some of the challenges in IT process automation by offering you innovative tools to help reduce cost, centralize and automate complex processes, save time, and streamline workflows. These tools are easy to use, and we hope you leverage them to improve efficiency and productivity in your SAP and non-SAP environment.
Central Syslog Server
IT-Conductor now supports Central Syslog Server capabilities. You can configure the Syslog server to run on IT-Conductor Gateway to facilitate a central store of Syslog messages with integrated search and alerting capabilities. The Syslog Search feature is accessible from the service grid, and its intuitive interface allows you to search for specific system messages. A typical scenario will be to use the In-place message search functionality with potentially multiple Syslog servers serving various locations (for example, AWS Regions or in Hybrid/multi-cloud environments mix of On-prem/AWS/Azure/GCP).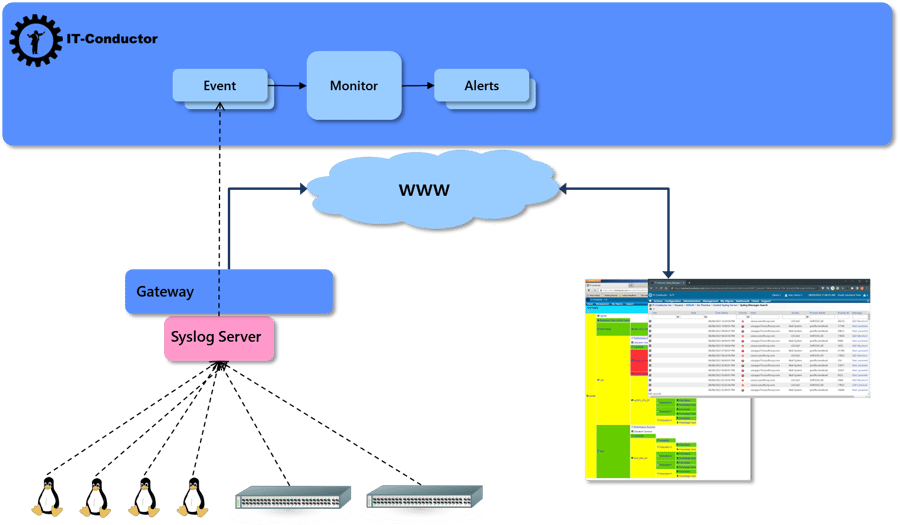 Figure 1: Central Syslog Server
The centralized storage of Syslogs will help break down silos and enable enterprise-wide insights by allowing system administrators to search through Syslogs and configure notifications for events that match defined criteria.
The In-Place Search feature is an interactive query search of System messages, CCMS alerts, and IT-Conductor generated alerts. It allows the sorting of optional and mandatory attributes like hostname and system ID to restrict the result returned. Ordered search based on specified attributes is also possible while filtering with search columns. For example, you can use the "Host" as a criterion and order the result by "Process Name". Customers that want an ad hoc list of specific logs/alerts at any given time will find this useful.

Figure 2: In-Place Search
System Start/Stop Automation (SAP and non-SAP)
This automation feature allows you to remotely automate the Start/Stop process of SAP and non-SAP systems at scale from IT Conductor. Its applicability ranges from just a single system to mass automation of multiple SAP and non-SAP systems, which can be executed either manually or on a scheduled basis. This solution is highly customizable and adaptable to any customer environment, and it can function as an essential step in IT maintenance operations.
A simple scenario will be to create a single global process definition that triggers the Start/Stop activity of all the SAP and non-SAP systems in your environment at a defined time. You can include this activity in your overall IT process automation for system lifecycle tasks such as OS patching, SAP kernel patching, etc. Based on customer requirements, we've included the option of selective execution that allows you to select only the systems (SAP and non-SAP) you want to manage from a list of other systems. When combined with conditional options, you can determine the sequence of execution of each system or component.
This feature can be launched from the IT-Conductor folder grid interactively via a wizard, which prompts you to select systems you want to stop. There is also an option to add notifications at the successful completion of the overall process or as required.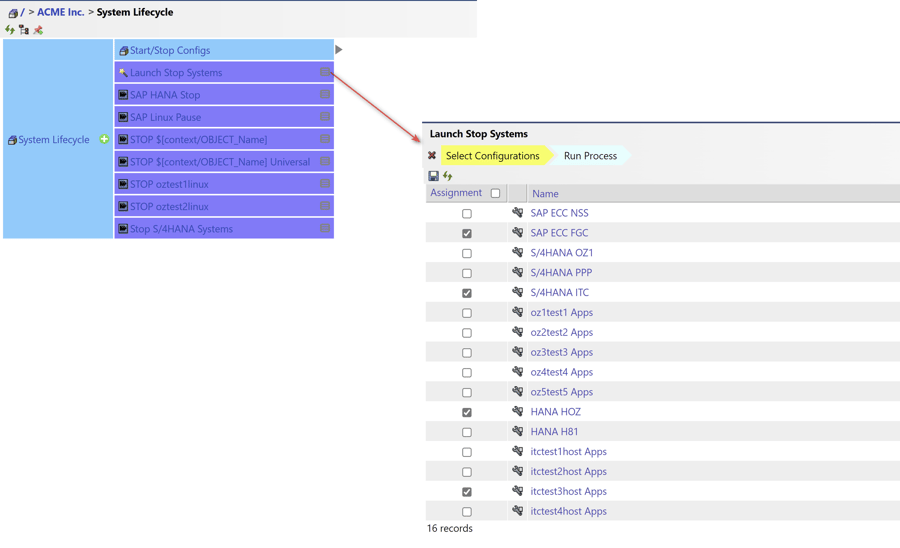 Figure 3: Launch Stop Systems Wizard
S/4HANA End-to-End System Refresh Automation
Our System Refresh as a Service (SRaaS) is an automated E2E solution for refreshing SAP Systems. Its distinctive element lies in its ability to streamline numerous administrative tasks into one automated, end-to-end workflow. The recent increase in demand for IT-Conductor System Refresh solutions, as seen among our customers, stems from the need to automate the main phases of system refresh.
Customers that integrate their SAP systems into the monitoring and automation framework behind IT-Conductor will experience seamless operation when performing system refresh. This will enable users to check for prerequisites such as sufficient file system space in the target system before the refresh begins. Integrating your SAP systems with IT-Conductor allows you to monitor resource utilization and availability, manage alerts and notifications, configure basic dashboards, and set various KPIs.
With the drag-and-drop workflow designers in IT-Conductor, you are able to orchestrate workflows and reuse building blocks for subsequent designs. There are also various tools that allow users to iterate and edit existing processes. In order to reduce unwanted errors, there are testing facilities (dry runs) that you can use to ensure processes run successfully when executed in production.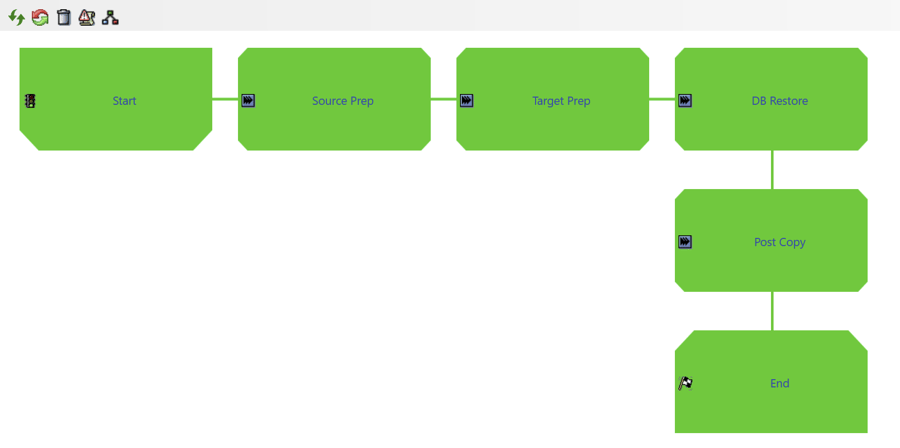 Figure 4: System Refresh Process
A common scenario is the E2E System refresh automation of S/4HANA systems which can be saved as a template and reused on demand. The example below shows a simple SAP landscape in AWS that was provisioned via IT-Conductor automation and subsequently refreshed using the system refresh automation. At a high level the approach involves:
Provisioning - Infrastructure and System Provisioning via IT-Conductor Automation (if non-existent)

Assessment - Discovery and Distillation of Resources

Architecture - Design and Development stage

Deployment - implementation of Design
The processes created using IT-Conductor Graphical Process Composer encapsulate multiple activities involved in different stages of the System refresh while complying with industry security best practices. This approach helps to simplify the overall process design of System refresh.
Since Logging is a built-in feature of SID-Refresh, troubleshooting is less complicated via the analysis of logs generated when executing the export, clean, and import process. The alert management and notification mechanism ensure that alerts are sent to the person responsible if an error occurs during the process execution. You can also configure the system to send notifications to your stakeholders when a system refresh starts and ends.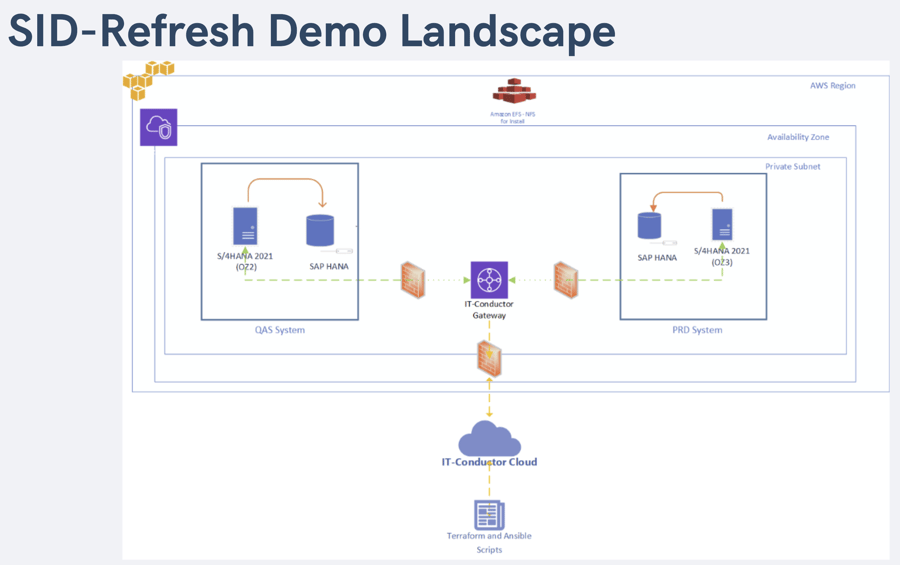 Figure 5: System Refresh Demo Landscape
IT-Conductor customers with diverse system landscapes leverage this solution to refresh their SAP systems quarterly or as demanded, and part of the benefits of using IT-Conductor System Refresh automation include:
Significant savings in time and effort.

No hardware cost

Easy implementation

Automated process

Reduced downtime

Support of industry best-practices

Compatibility with major operating systems and databases

Increased integrity