Welcome to the Q4-2022 edition of IT-Conductor's latest automation features. In this final edition, we aim to keep you abreast of the enhancements in some of our existing features and the addition of a dashboard (HANA Overview dashboard) that complements the already existing SAP ABAP Overview dashboard.
Our main focus for Q4-2022 was to support business operations during the busy holiday season when many of you were also hard at work ensuring that your systems are running smoothly. That's why we've put together some features to provide you with insights and reduce the manual effort involved in business operations 24x7 throughout the year.
We hope you find this blog informative and insightful, and we look forward to hearing your thoughts and feedback. Thank you for joining us!
1. HANA Overview Dashboard
The HANA System Overview Dashboard is an out-of-the-box dashboard for your HANA system that can be accessed from the Service Grid. It shows critical system metrics, including the availability of the database, an alert summary, memory and disk usage, CPU utilization, the last successful backup, savepoint duration, indexserver threads, and I/O ratio.
The charts on the dashboard are responsive that when you click on them, it pops out a detailed view of each metric. This enables you to view several detailed metrics on a single pane of glass while visually correlating data for troubleshooting or analysis.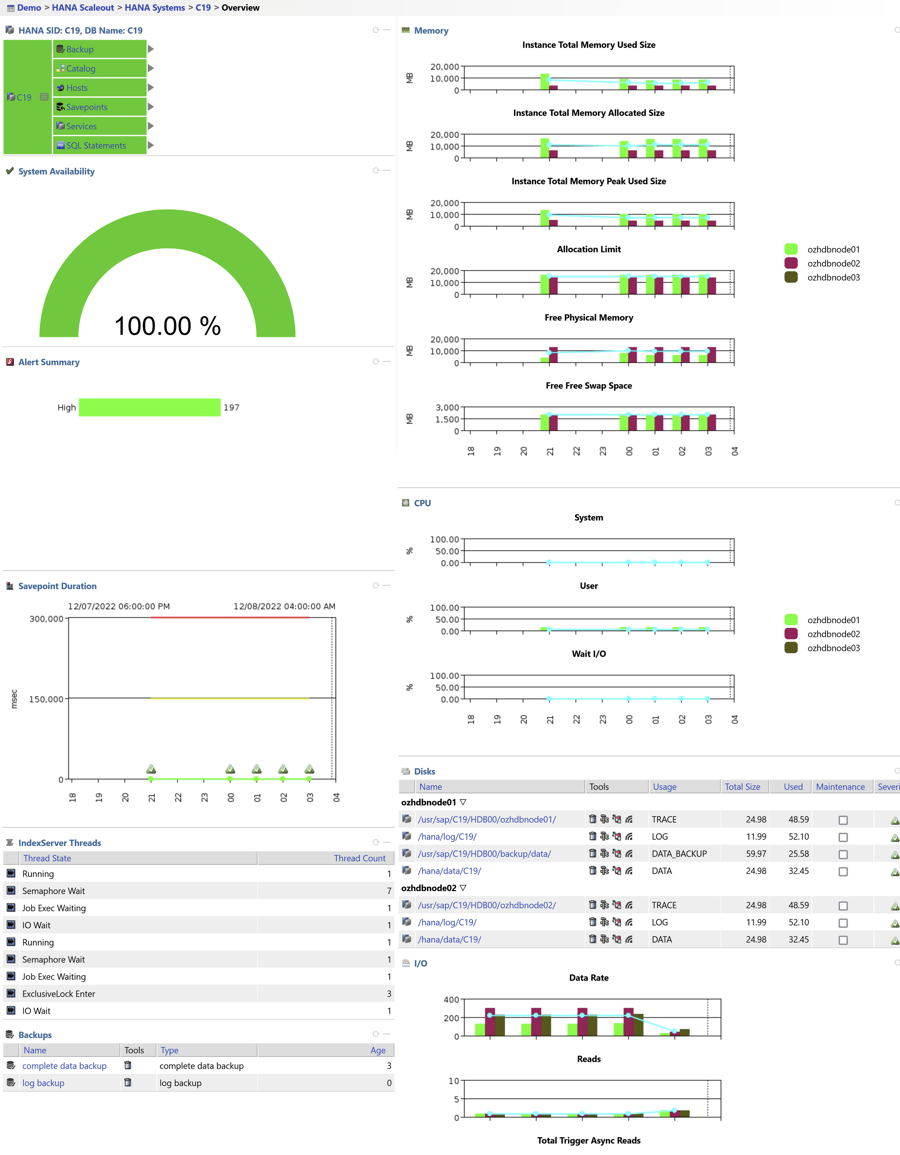 Figure 1: HANA Overview Dashboard
2. Printer Monitoring (Job Queue Count and Job Queue Age)
This feature is an enhancement of the existing IT-Conductor printer queue monitoring that monitors the status of critical production printers. Many businesses depend heavily on printing as part of daily operations such as logistics, manufacturing, order fulfillment, etc. Disruption in printing, such as paper jams, out-of-paper issues, offline printers, network-related issues, poor print quality, slow print speed, driver problems, and device overuse can halt an entire business process. IT-Conductor monitors the number of print requests stuck in the queue and the time since the job has been in the print queue, and if desired triggers automatic restart of the print queue.
From the IT-Conductor Service Grid, you can view the printer status (Disabled, Unknown, Printing, or Idle) which enables you to know if a printer was busy at any particular point in time. Also monitored are the Print Request Age and the Print Request count.
Depending on your requirement, you can configure the system to send alerts on each of the oldest print jobs stuck in the queue or the number of print requests currently in the queue. You also have the option to define alerts for either each job older than a certain age or once for the whole print queue with the age of the oldest job. Essentially, the notification can be customized as desired using the different alert criteria available in IT-Conductor.
With our nice-looking charts, you can click on any data point to view snapshot records that display the age/count of print requests in any specific time interval. The chart also shows the number of print requests and the time spent in the queue. At a glance, you can see spikes of print jobs at different times of the day to understand when any particular printer is most utilized.
You can also receive this information as a daily report sent to your email. This report will display the printer Status, Request Age, and Request Count with the ability to navigate to the context area on the IT-Conductor Service Grid, where you can view the list of current jobs in the queue.
With this level of enhanced monitoring, you can optimize your workflow and relieve the operations team of manual labor, especially during holidays. Faulty printers are easily detected, and the person responsible is quickly alerted to take appropriate action, and/or auto-restart the print queue. IT-Conductor allows early detection of print requests that have been stuck in the queue for an undue time, therefore avoiding disruptions to critical business processes such as shipping and invoicing.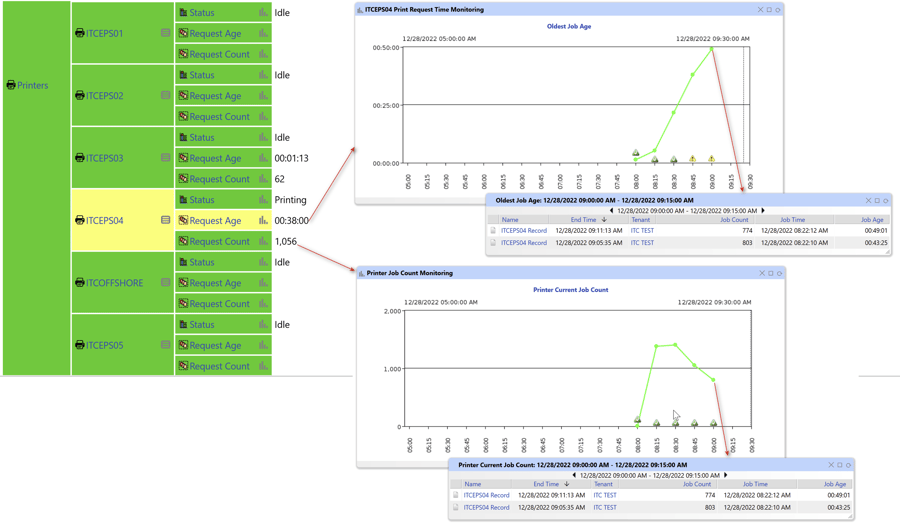 Figure 2: Printer Job Queue Count/Age Monitoring
3. IDocs and BDoc Queue Monitoring
IT-Conductor IDoc and BDoc monitoring features are key differentiators that set us apart from other APM solutions. Since this is essential for SAP CRM operations, we provide advanced monitoring functionality for IDoc and BDoc processing time, statistics, and errors within a specified time frame. By capturing the BDoc Message ID, BDoc Type, BDoc State, and Time, we can either define a list of message types to monitor or automatically detect all available message types. This level of monitoring is particularly beneficial for organizations with strict deadlines for fulfilling orders from B2B customers, as it helps to avoid delays and reduce the time needed to detect, analyze, and process errors.
IT-Conductor reports the total number of IDocs and BDocs in an error state for a specified period, such as the earlier day, the previous day, or a specific month. This report can comprise performance stats and be filtered by specific IDoc/BDoc message type and error state.
Alert notifications and reports can be configured and sent to your email, displaying the end-of-day error count of BDocs/IDocs in your CRM system. This report gives an idea of the number of errors reported each day. You also have the option to get notified only on the active errors while removing the BDocs/IDocs that are no longer in a failed state. You may also opt for receiving alerts as the error occurs.
IT-Conductor charts show errored IDocs and BDocs when you click on the data points. This result is classified by state and message type, and you can determine if the errors occurred even if resolved eventually.
The automatic detection of errors reduces manual effort, increases productivity, and leads to faster processes. Also, it allows you to quickly identify relevant error message types and states that can impact business operations.
This feature helps to overcome the difficulty in detecting and tracking IDocs, whose resultant delay can cause increased inventory costs. Other benefits include improvement in order creation time, optimized supply chain, and reduction of the Mean Time to Resolve IDoc errors that will invariably improve the overall efficiency of your business operations.
Overall, the IT-Conductor IDoc and BDoc monitoring feature helps you monitor the performance of your SAP CRM system and identify and resolve errors quickly.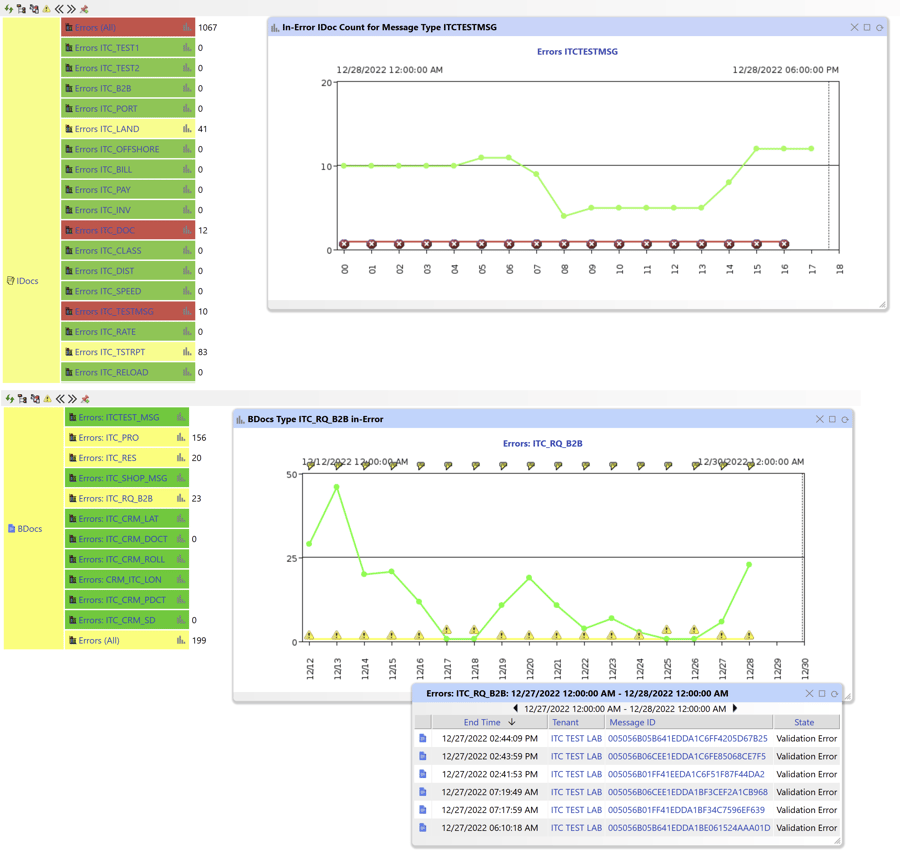 Figure 3: IDoc and BDoc monitoring
You are welcome to use any of these features that apply to your business area or interest. If you need help maximizing these functionalities, feel free to reach out to us, and we will be happy to assist you.
Thank you for staying with us throughout the year 2022.
We wish you a Happy and Profitable New Year!