IT-Conductor Frequently Asked Questions
IT-Conductor is a full Software-as-a-Service (SaaS) solution, therefore we make it as simple as possible for you to Automate, Monitor, Manage and Optimize (AMMO) your enterprise IT environment. By including a no time limit trial up to 2 systems, you can experience the full width and depth of our subscription service at no risk to answer all your questions. If however, there are still any questions, please feel free to let us know by Chat or the Contact page.
[fa icon="plus-square-o"]
Signing Up
To register, please visit https://service.itconductor.com/register.
Please use your corporate e-mail address - public web e-mail addresses may be blocked by IT-Conductor.
Preferably use abbreviation or a short form for your Company Name
Upon the successful registration, you will receive an activation e-mail
[fa icon="plus-square-o"]
Getting Help
While logged on to IT-Conductor, use Support / Help for detailed instructions.
[fa icon="plus-square-o"]
Chat with Support Team
When you are logged in, a chat window will appear in the lower-right corner of the browser: our support team is standing by to answer your questions and get you going.
[fa icon="plus-square-o"]
How does the IT-Conductor Gateway work?
The IT-Conductor Gateway is a software download which runs as a secured proxy service on either Windows or Linux 64-bit platform. It sits securely behind the Customer firewall and calls home to IT-Conductor over HTTPS SSL connection, pushing monitoring data (metrics & alerts) into the cloud and then retrieves the next set of instructions for monitoring and automation work with the Customer's monitored system.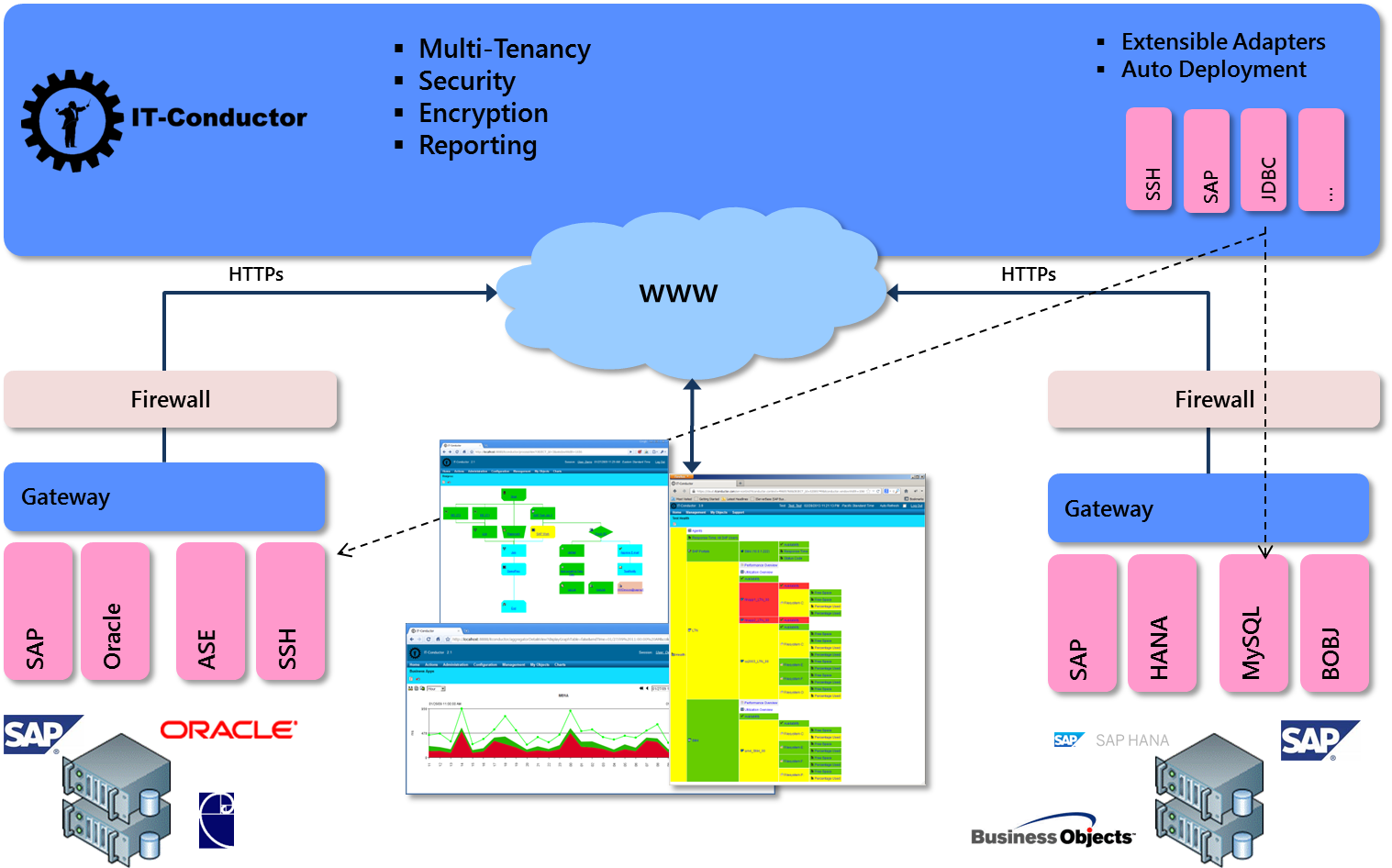 [fa icon="plus-square-o"]
Is there direct access to the Monitored System?
No. IT-Conductor does not directly access the Monitored System.
Gateway access via secured proxy
Machine-to-machine access, no direct user logon from IT-Conductor to Monitored System
Stopping the Gateway will stop all access for Monitored System configured using that Agent
[fa icon="plus-square-o"]
Is my data safe and backed up?
Absolutely. Our servers are housed in a SSAE 16 type II audited data center with 24 hour monitored security, redundant power and cooling, active fire detection and suppression, and has no physical access except for security and authorized systems administration personnel only. Our storage infrastructure is highly durable and fault tolerant, and our databases are backed up daily and securely transferred and stored with military grade AES-256 encryption to multiple off-site locations, and our data management practices and privacy policies are ISO 27001 compliant.
[fa icon="plus-square-o"]
Do you offer any form of encryption?
All communications are performed via HTTPS secured by 128-bit SSL certificate from a trusted Certificate Authority.
Data is stored in encrypted database.
[fa icon="plus-square-o"]
What data transport standards are used?
HTTP with SSL (HTTPS) + SOAP and HTML
[fa icon="plus-square-o"]
How is access control currently accomplished?
Authentication: Form-based authentication using IT-Conductor stored password hashes
Authentication Policies:
Prompt Captcha validation after a Number of Unsuccessful login attempts
Lock user account after a Number of Unsuccessful login attempts, requiring password reset
Self–service password reset via validation e-mail
E-mails are not modifiable by the end-users
User Identity: Maintain in the Application server memory for the duration of the session (Java). Initial registration and password reset employ validation e-mails sent to the end-user.
Role Based Access Control:
Each tenant user can only access data in its tenant.
Each user is assigned a role
Each role has to be granted access to objects based on Object Class, Type of operation, Object Values. Type of operation is one of many defined operations like read, update, create, etc. - over 20 at this time allowing for a granular control over available functionality.
Tennant users granted "
Tennant Administrator
" role can grant access to tenant data to other uses by creating/granting roles
[fa icon="plus-square-o"]
What are the steps in the data lifecycle?
Customers define monitored components by entering host names and user accounts used to monitor them. IT-Conductor collects the performance counter data and alerts. Performance counters are numeric values and are aggregated/rolled up in a progressive manner over time. Alerts are removed after 1 week, but can be customized.
[fa icon="plus-square-o"]
What methods/controls are used to separate information and systems from other companies?
IT-Conductor has a proprietary multi-tenant datastructures stored in a relational DBMS; the proprietary application security layer only allows access to customers own data.
[fa icon="plus-square-o"]
Who owns the data when it is in the cloud?
All customer data (that are not benchmarking data, abstracted derivative data, transactional, performance data and metadata) shall be owned exclusively by the customer.
[fa icon="plus-square-o"]
What access is required to the Monitored System?
No business master or transaction data access
Only monitoring or operations control access (such as job scheduling if required by customer)
[fa icon="plus-square-o"]
What happens to our data when the contract expires?
Thirty days following contract expiration, procedures are followed to purge all monitoring and performance data. Sensitive/personally identifiable information is anonymized.
[fa icon="plus-square-o"]
IT-Conductor Administration
[fa icon="plus-square-o"]
What is the IT-Conductor Free Account Plan?
The free account does not expire, and allows up to 2 systems/Apps (no SAP JAVA) to be monitored at the application level only without native DB or OS monitoring. You can upgrade to a paid subscription from the free plan at any time. Your usage is monitored, so if your account is unused for 30 days or longer, IT-Conductor reserves the right to terminate and remove the account and all its configuration and data.
[fa icon="plus-square-o"]
Is the free plan really free?
Yes, monitor up to 2 systems totally free – no catches.

The free plan does not require a credit card to use. There are no time limits and online support is fully included.

It's perfect for small SAP environment without need for native OS or DB monitoring. The only limit is we can't add custom monitors or workflow that are not already included in the built-in best practices templates.
[fa icon="plus-square-o"]
If I'm on the Free plan with 2 systems and I want to add a 3rd system, do I have to pay for all 3 systems, or just the 3rd system?
When you upgrade from the free plan to any paid plan, all systems are billable. So in this example all 3 systems would need a subscription. The free systems are self-service, the subscribed systems are fully managed and supported.
[fa icon="plus-square-o"]
What paid subscriptions plans are available?
DB

App

Bundle

$150
$200
$300

$135/mth 1yr, $120/mth 2yr, $100/mth 3yr
HANA, ASE, Oracle, cluster up to 3-nodes
Includes supporting OS host/s
Notifications
Dashboards
Reporting
Automated Recoveries

$180/mth 1yr, $165/mth 2yr, $150/mth 3 yr

Includes SAP Netweaver ABAP, BOBJ, Cloud apps

No native DB or OS monitoring

Notifications

Dashboards

Reporting

Automated Recoveries

$275/mth 1yr, $250/mth 2yr, $225/mth 3 yr

Includes SAP Netweaver ABAP/JAVA, BOBJ and Cloud apps

Includes supporting Database and OS

Notifications

Dashboards

Reporting

Automated Recoveries

SIDRefresh PCA tool included for one landscape

Trusted Advisor Remote Support

Volume & MSP Custom Pricing available, Submit an Inquiry
[fa icon="plus-square-o"]
With paid plans, when will I be billed?
You will be billed upon subscription.
[fa icon="plus-square-o"]
What payment methods do you accept?
For paid monthly plans, IT-Conductor accepts Visa, MasterCard, and American Express. All payments are billed in US Dollars per system per month. If paying for an annual plan, Wire Transfers/ACH are the preferred method of payment. Payment instruction will be provided on the billing statement.
[fa icon="plus-square-o"]
Do I have to sign a fixed term contract?
No, you have the option of paying monthly or annually. For the monthly plan, your credit card will be billed each month. For the annual plan, your credit card will be charged every 12 months. If you choose Wire transfer or ACH method for the annual plan, it must be paid on or before the 12 month anniversary date.
[fa icon="plus-square-o"]
Are there any cancellation fees or set up fees?
You can cancel your account at any time, and we do not charge any set up fees to use our available best practices monitoring templates for self-deployment. For annual plans, cancellation notice must be received at least 60 days prior term expiration. Assisted deployment may incur a charge and will be detailed on an SOW (Statement of Work). Deployment fees vary based on the size and complexity of your requirements.
[fa icon="plus-square-o"]
Will IT-Conductor give refunds?
As per IT-Conductor Subscription Service Agreement (aka EULA), IT-Conductor does not issue refunds for monthly or annual terms. If you are on a paid plan, you can cancel at any time, but you will not receive a refund for any unused portion of your subscription. For multi-year terms, unused years can be refunded.
[fa icon="plus-square-o"]
Feature list
Our features, benefits and for the roles/tasks can be found at:
To request features, please use our Chat or Support. We are an agile cloud service solution that regularly updates functionality to meet customer needs.
[fa icon="plus-square-o"]
Are there demo and instruction videos?
[fa icon="plus-square-o"]
Can I see a live product demo?
Yes we provide 2 types of demos:
Self-guided demo which we provide you with scripted instructions that you can self-pace through the online demo using our monitoring setup. Sign up for a self-guided demo
Book a Live demo with our team so you can answer your specific questions
[fa icon="plus-square-o"]
Can I speak with a sales rep?
Yes. Our IT-Conductor expert team is available via online chat (during normal US business hours), or contact us via email, phone or inquiry form available on our
Contact
page.
[fa icon="plus-square-o"]
Where is your privacy policy and terms of service?
[fa icon="plus-square-o"]
What type of training does IT-Conductor offer?
IT-Conductor offers numerous online training options ranging from live webinars, on demand webinars, tutorial videos and FAQs. You can review these self service tools on our Resources menu.