We Found an Easier Way than the Easiest
Last year we wrote about The Easiest Migration to SAP on AWS, now we hate to say it, but we were wrong! After 17 years of doing SAP Migrations, now we found an EASIER way and we can go from any platform to any cloud and vice-versa! Why not? Even SAP is moving its own systems to a public cloud.
IT-Conductor is about IT Process Automation, so we get excited about automation technologies. SAP OS DB Migration has always been a pain, and will probably be as long as customers run business critical applications on it and have complex infrastructures. Since the early 2000's we have worked very complex migrations for SAP, SUN, IBM, and many large global customers and just when the tools and process get easier there comes new challenges of going to the cloud. There are so many cloud platforms today including SAP, AWS, VMware, Azure, GCP, IBM Softlayer, CenturyLink, and many more that supports SAP. The question becomes how do we standardize the way we migrate there in an automated fashion, without having to deal with all the technical hurdles of each cloud, as well as have options to go back if we don't like the new platform. We'll admit, we're agnostic, we want solutions to work with everything, Any-to-Any!
ATADATA for SAP Migrations
Any-to-Any-DATA migration (ATADATA), is a solution we searched for and referred to by our partner AWS. As it turns out, it's run by some of the folks we worked with years ago at IBM, who dealt with complexity and challenges of doing mass data center migrations. They have created a tool that will do more than just migrations. We took Discovery, Migration, and Mirroring for a test drive against several SAP systems and plan to test other modules such as Transform and DR:
Discovery
Migration
Transform using OS Upgrade / Migrate
Mirroring - Sync
Disaster Recovery - Continuous block-level replication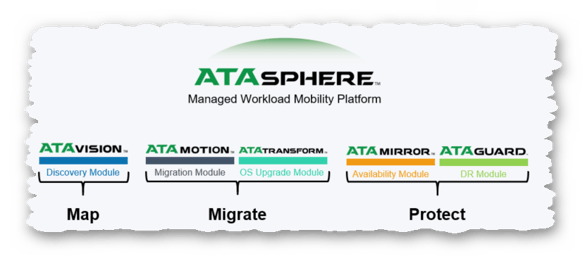 Image courtesy of ATADATA
Enterprise Application Centric
In Discovery, ATADATA can profile many systems in a subnet, by IP address - just load them up from a spreadsheet, and find what are running on each source system. This is quite valuable in producing the inventory of what's running on the source system as well as its configuration and utilization. Sometimes customers don't even know what's running on their own systems and need a tool to inventory it. Application migration are most complex and the more one knows about the source, the better the migration plan. This is referred to in ATAsphere (the console) as Asset Classification and it creates default buckets, and allows logical groupings by:

Business Application
Device Type
Environment
Compute Locality
Infrastructure
Move Groups
Operating Systems
Server Roles
Validation Status

Automating the Heavy Lifting
ATADATA focuses on enterprise workloads including SAP, SAP HANA, Oracle, and what we tested can move almost any database with a persistent layer on disk in cold mode. In warm or hot mode, it is also possible with extra steps combining sync and/or DR.
Unique proprietary architecture and multi-threaded transfer engine allows simultaneous wave groups to be migrated.
Unlimited workload size.
Auto provisioning significantly reduces manual work especially in building the target system
Re-run are easier with stored Migration Schema and profiles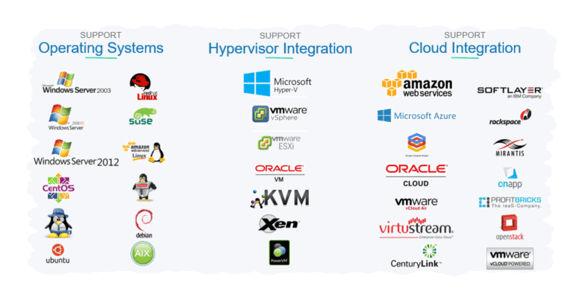 Image courtesy of ATADATA
SAP Migration Process
In our testing, we migrated from our lab at co-location to a public cloud (AWS) but the same can be done with SAP on Azure or more than 20 other infrastructures. The following were tested and documented:
SAP Solution Manager on Windows 2012 / SQLServer
SAP NW 7.5 on SLES 11.3 Linux / Oracle 12c
SAP NW 7.51 Front-end Server on SLES 12.2 Linux / SAP ASE 16
SAP HANA 2.0 SP1 Primary node of a DR set on SLES 12.1
Some systems were on Linux partitions while others are are on LVM (Logical Volume Manager). All different versions and platforms were migrated without ever building the target manually, nor any SAP tools, DB tools or scripts. They were all automated and agentless.
Discovery
ATAvision module takes care of the following:

Supports Windows, Linux, AIX, HP-UX and Solaris
Server & application inventory
Application affinity mapping
Server utilization
Instance mapping
Right-size recommendations
Cost projections
Affinity-based infrastructure move & protection groupings
Reporting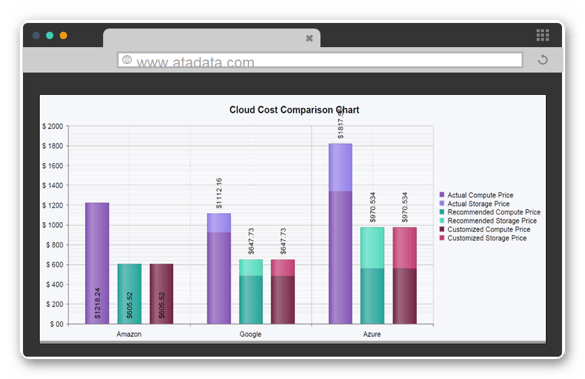 Image courtesy of ATADATA
Migration
All work were performed using the ATAsphere console and agentlessly. We can migrate over private or public networks for any supported cloud platforms, with encryption option.

Source system validation - checks the system status and prerequisites
Migration Schema - creates profile about the target environment so it can be used for similar migrations
Target system provisioning - can provision target VM based on source system discovery, with ability to customize some items such as target hostname, IP, volume sizes, instance sizes on private or public clouds
Target system validation - checks the system prior to migration
Data migration - all chosen volumes are migrated via volume sync
Post migration boot configuration on target - the migration happens to temporary system image then boot is configured to duplicate the source system
Cleanup - temporary work directory are cleaned up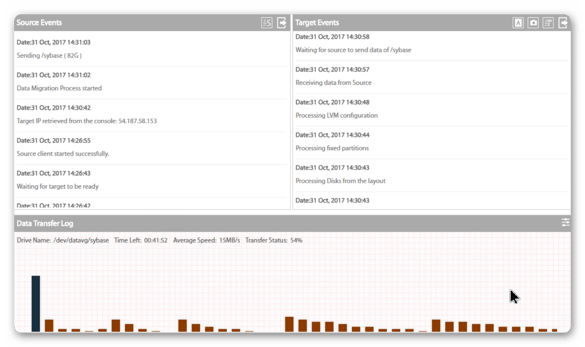 Sync
Optional sync of partitions and/or filesystems. This is especially useful in the case of migrating an online system where the target maybe inconsistent, and the source can be shutdown after the migration is complete, for final synchronization of changed filesystem blocks.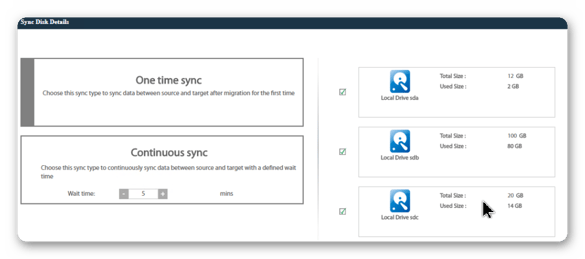 Application Startup and Validation
In most cases during SAP offline migrations, the target SAP and DB came straight up. All the application configuration are intact. In some cases, for testing, we performed network isolation since the source system was still running. Other instances, the database may go through forward recovery if logs were shipped after the initial migration.
Advanced Migrations
Some readers especially the SAP OS/DB Migration consultants maybe thinking of many more complex scenarios including change of database. Those are more traditional SAP OS/DB migration, and even for HANA using SUM DMO, this technique can be supplemented to build the target HANA system from the source system prior to final changes are replicated.
Using ATADATA to migrate enables the first step to a technology refresh, however the technical debt of not transforming the system still has to be paid back, but that can be done later and much easier when all the systems are operating in the cloud. Many customers need to get off their current platform due to contract expiration, capacity limitations, and other non-technical reasons, so the option of moving quickly often takes precedence. For example, it's much easier to do a homogeneous migration to the cloud where extra capacity and bandwidth are available to make the next heterogeneous migration like DMO easier.
The Benefits of Automation
We naturally like ATADATA because it aligns well with IT-Conductor's mantra of Automation and Agentless technologies. Let's look at how customers can benefit from a well designed migration solution which combines services and tools.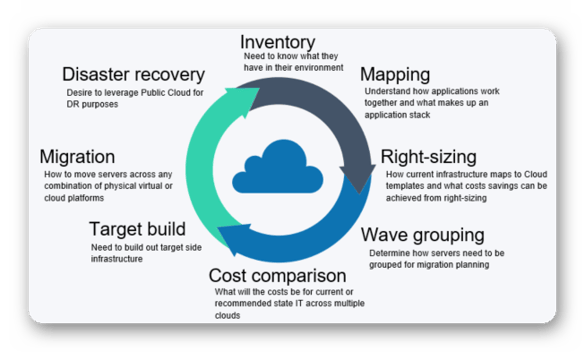 Image courtesy of ATADATA
We're so impressed with the ATADATA solution, we've signed up as SAP migration partner. Our expertise combined with best automation solution from ATADATA and IT-Conductor is an exciting solution.
For further details, please visit SAP Hosting on Cloud