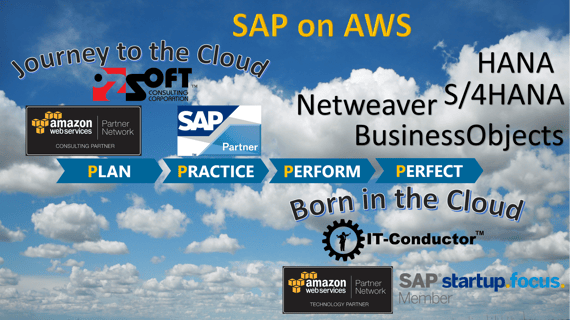 SAP on Cloud and Transformation IT
Only a few years ago when a couple of IT-Conductor founders approached SAP customers about our cloud-based SAP monitoring and performance management solution, it was widely rejected primarily because enterprises were not ready to adopt cloud computing, especially in infrastructure and systems management. Fast forward to 2014 when we were at Sapphire and Teched/d-Code, if your solution wasn't cloud-ready, it was not transformative enough. SAP on cloud has definitely taken off with SAP's own offerings of SAP BusinessOne, HANA Enterprise Cloud (HEC) and HANA Cloud Platform (HCP), as well as many aquisitions of cloud solutions such as SuccessFactors in 2011, Ariba in 2012, Hybris in 2013, Fieldglass and Concur in 2014. If you're in the SAP ecosystem, cloud is a neccessary strategy and no longer just a buzz word.
IT-Conductor is a born-in-the-cloud service company and in the past 18 months we have worked hard with our service partner OZSOFT who has been in the SAP implementation, upgrade and performance business including SAP system management software since 1996, to create a joint partnership in delivering SAP on AWS services. Why SAP on AWS? Our depth of solutions, expertise and partnership with SAP is clear, while our strategic partnerships (both Consulting and Technology partner) with AWS (leading Platform as a Service (PaaS) public cloud according to Gartner Magic Quadrant, Oct 12, 2015 report) provide both specialized SAP technical consulting services and technology platform to the forefront of SAP on AWS cloud solution.
With our SAP on AWS service announcement, we're immediately offering qualified customers a special 50% discount on Proof of Concept (POC) Implementation or Migration if started before 2016.
4 P's: Plan, Practice, Perform & Perfect IT
We base our processes on our methodology of Plan, Practice, Perform & Perfect IT
SAP Implementation: SAP Netweaver, SAP HANA, SAP BusinessObjects architected for secure, scalable, high-performance and availability, as well as time/cost efficiencies.
SAP OS/DB Migration: Certified migrations using best practices to mitigate risks and minimize downtime. Combined Upgrade and Migration support.
Cloud Excellence Operations: IT Process Automation increases operating efficiencies, and agility best suited for cloud services. We provide partial to fully managed services while your SAP environment runs at AWS

Plan
Business case
Total Cost of Ownership (TCO)
SAP Sizing
AWS Architecture Blueprint (Compute, Database, Storage, Network, Security)
Platform Availability Matrix (PAM)
Installation Planning
OS/DB Migration Window (if migration involved)
Interface Integration Planning
Proof of Concept (POC)
SLA design
SLA Compliance Monitoring specification
SLA Reporting Requirements
Practice
Installation
Landscape Configuration
Sample OS/DB Migration (if migration involved)
POC Performance Load Testing
Optimize landscape based on Load Testing findings
Optimize migration process (if migration involved)
Interface migration (if applicable)
Operation readiness training and testing
Dry run (Mock go-live)
Business validation
Perform
IT-Conductor Monitoring Implementation
IT-Conductor Automatic Remediation Procedures Implementation
IT-Conductor SLA Definitions
Acceptance Performance Load Testing
Go-live and/or Migration
Security Hardening
Final Business validation
Cutover
Perfect
Lifecycle Management
SLA & Performance Reporting
SLA & Performance Reviews
Continuous Performance improvement process implementation
Synthetic Monitoring
Automate IT operational processes
For further details, please visit SAP Hosting on AWS