Typically a SAP Production system has many customer defined RFC connections to partner systems and TCP/IP interfaces. These interfaces are critical to the availability of the whole system landscape. Examples include ECC to BW connections, CRM to ECC, SCM to PI to ECC, etc.
How do you monitor these SAP RFC connections today? You can either use CCMS RFC Destination which is limited to availability and/or Solution Manager's Integration Monitoring (Connection Monitoring sub-tab) which can include more scenarios. However we've devised a much simpler way to monitor their availability and latency without dependencies on Solman nor CCMS.
Subscribe to our cloud-based IT-Conductor and add the SAP system from which you wish to monitor its RFC connections, then add the connection name (the ones from SM59) you want to monitor and it does the rest for you, simple! See example below of how the SAP monitoring RFC availability and latency is part of the overall SAP system's health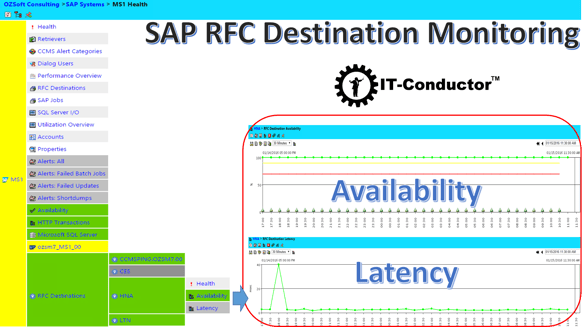 With a few clicks and a few minutes, you can monitor and alert on all your system's critical RFC destinations!