Welcome to the Q3-2023 edition of IT-Conductor's latest automation features. We are thrilled to present some exciting releases from the past quarter, featuring cutting-edge monitoring, enhanced metric visualization, and advanced post-copy automation for your SAP landscape.
We invite you to explore these standout features and share your valuable feedback with us.
Also, please take a moment to check out the success stories at the bottom of this page, showcasing real-world examples of organizations reaping the benefits of IT-Conductor's automation solutions.
1. SAP ASE Database HA/DR and Cluster Monitoring
IT-Conductor is the preferred solution for advanced monitoring, and this has been further demonstrated through its latest release of SAP Adaptive Server Enterprise (ASE) Database HA/DR monitoring. Several organizations lack a reliable solution for monitoring their ASE cluster database, resorting to laborious and unreliable manual scripting methods.
IT-Conductor now provides a comprehensive monitoring of the ASE cluster database. This includes monitoring the availability of both the primary and standby databases, along with critical metrics such as fault status and replication status. With IT-Conductor, you benefit from nearly real-time failover detection and a clear understanding of the active database's status at any point in time. Implementing this advanced monitoring service in your environment will undoubtedly result in significant time, effort, and cost savings.

Figure 1: ASE DB Cluster Monitoring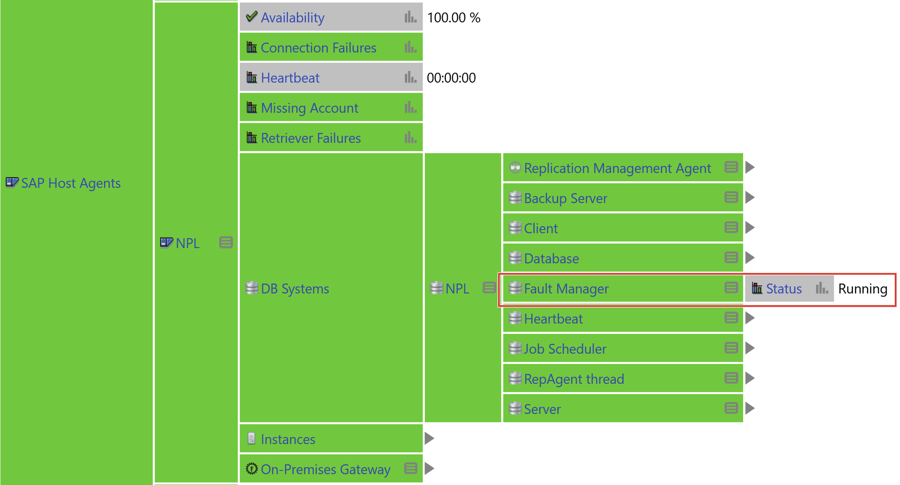 Figure 2: Host Agent-based HA Monitoring
2. Threshold Thumbnail View Dashboard
The Threshold Thumbnail View Dashboard was designed with your needs in mind. These innovative threshold charts display the most recent interval metric values as a custom chart, distinct from the regular time-series graphs. This new view supports threshold block values while assigning a background color that matches the threshold severity over time, with the latest interval value displayed in the center.
Consider a practical scenario where you need to monitor multiple production HANA databases, each with different metrics, all conveniently displayed on a single dashboard. If these metrics were to be presented as regular time-series graphs, they would overcrowd the entire dashboard and screen estate. Furthermore, displaying all the required metrics on a single dashboard might not be feasible.
A better alternative is the ability to visually display varying values of multiple critical metrics in one comprehensive view. With this grid view in one place, you can effortlessly expand any metric chart for more details, providing access to a historical time-series view of your metrics and the option to maximize the chart screens for in-depth data comparison and analysis using our built-in tools.
IT-Conductor's latest threshold view makes this possible while offering various personalization options such as resizing charts and choosing presentation styles like box or donut charts on the dashboard, among other preferences. This feature proves invaluable for obtaining a holistic overview of your system landscape's overall operation and performance.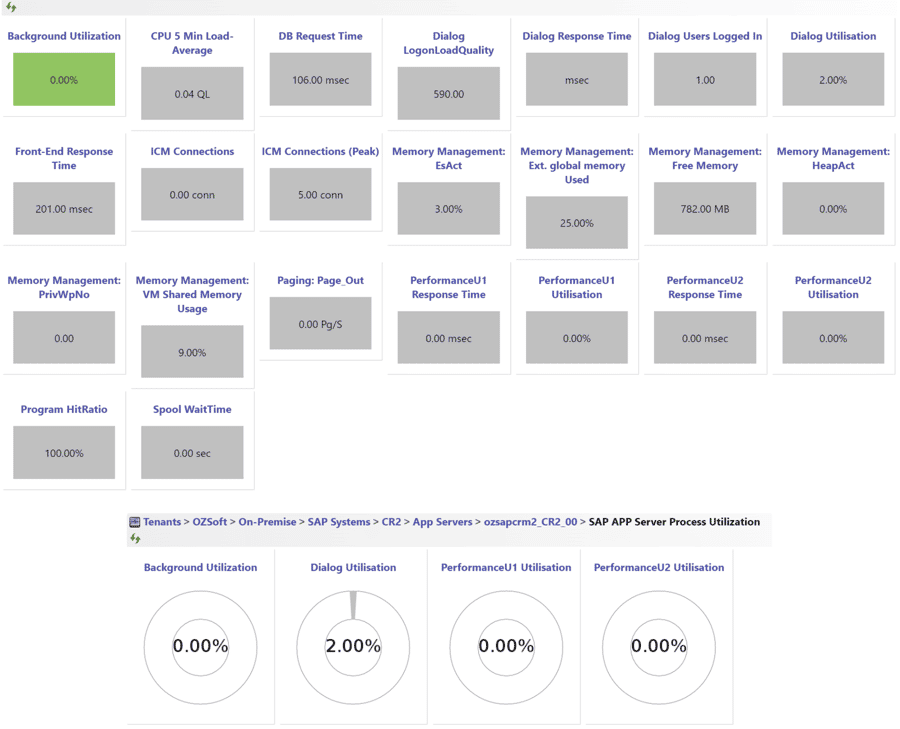 Figure 3: Threshold Dashboard
3. SID-Refresh Support for Fiori
The standalone SID-Refresh tool represents the flagship version of our system refresh solution. It predates the introduction of our cloud-native System Refresh as a Service solution, which provides comprehensive end-to-end system refresh automation.
SID-Refresh extends its support to various SAP products, including ERP, CRM, EWM, SCM, BW, S/4HANA, and has been further enhanced with compatibility for Fiori.
Support for SAP Fiori
A noteworthy feature of SID-Refresh is its support for SAP Fiori, the gateway to SAP applications on both mobile and desktop devices. This includes the ability to export and import the Fiori Catalog configuration, specifically the Component FIORI_CAT. To facilitate SAP Fiori integration, we've incorporated tasks within SID-Refresh for the export/import of Fiori Configuration settings, including the SAP Fiori Launchpad catalog configuration.
Efficiency and Precision at Your Fingertips
With this latest update, you gain the ability to refresh your S/4HANA system and Front End system seamlessly, reducing what used to take days into mere hours. We achieve this by minimizing the risk of human error through automation, customization, and robust error handling. Your control over the process is enhanced, ensuring a smoother and more reliable system refresh experience.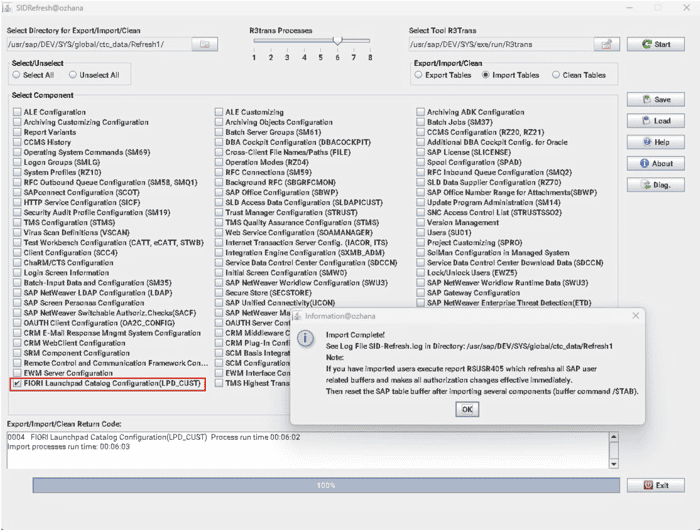 Figure 4: SID-Refresh for FIORI
4. HANA License Monitoring
Efficient license management is crucial for maintaining operational continuity in SAP HANA systems. It's recommended to install a permanent HANA license key before the expiration of the temporary license key, which is automatically installed with a new SAP HANA system.
Challenges in License Monitoring
Your production environment can experience a system lockdown if the temporary license key has expired or if the HANA system is running on an enforced license key, and you've exceeded your licensed memory allocation plus the tolerance. This situation can also occur due to the expiration of a permanent license key and the failure to renew subsequently installed temporary license keys within the 28-day grace period. Such events can result in unwanted system downtime and business losses.
Streamlining HANA License Monitoring
While SAP HANA generates alerts based on the default value of the "Check license expiration" threshold, available monitoring solutions are often time-consuming and cumbersome. They involve the laborious setup of system monitoring, scripting, and email configurations, which may not be convenient or scalable.
IT-Conductor simplifies HANA license monitoring by offering a solution that keeps you in control without the hassle. IT-Conductor provides dynamic and flexible threshold configuration, allowing you to define custom alerts. This flexibility enables you to avoid the inconvenience and time loss of obtaining and installing new licenses under the pressure of system downtime. Consider the time required to request permanent licenses on the SAP Service Marketplace and apply them to individual SAP HANA systems.
IT-Conductor's HANA license monitoring allows you to track your licenses, providing notifications about the remaining days until expiration. This proactive approach helps you avoid system lockdowns, ensuring uninterrupted access for your users and business continuity.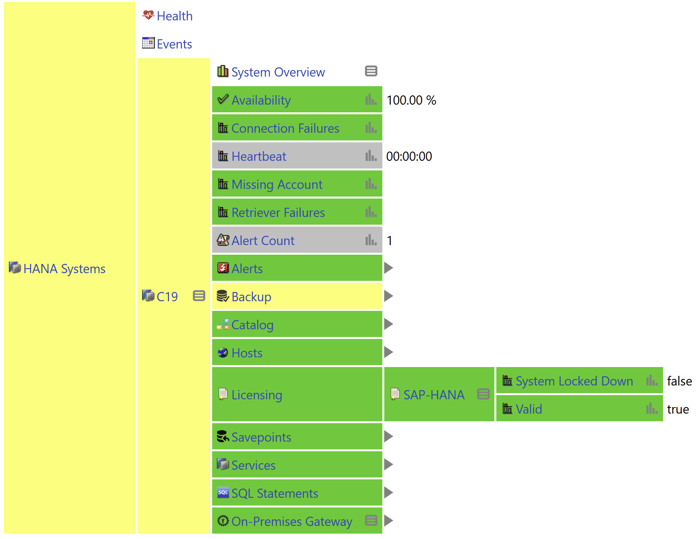 Figure 5: HANA License Monitoring
5. IT-Conductor File Watcher
IT-C File Watcher is a utility designed to continuously monitor multiple SMB file shares for specific file events, such as file creation, modification, or the arrival of specified file names within the time frame you define. For example, if files are not received or created within a defined time frame, it triggers alerts and notifies the responsible personnel. This tool is applicable in various SAP component areas.
Use Case
A common scenario for IT-Conductor File Watcher is when you have a file that needs daily processing by a job. The creation of this file may be expected from another department for further workflow processing. Implementing IT-Conductor File Watcher automates file monitoring, enabling automatic detection of successful file creation in a specified path and notifications to responsible personnel.
Key Features and Functionalities
Global File Watch: IT-Conductor File Watcher enables the creation of a global file watch, consolidating multiple file servers and watchers within a defined environment or production level.

Continuous Monitoring: It continuously monitors multiple file shares for specific events, including the arrival of specified files, file size, and patterns within a defined time frame.

Event Detection: The utility detects changes in specified file share paths and sends notifications when files are created or modified.

Flexibility: You have the flexibility to add multiple watches to different file servers, enhancing your monitoring capabilities.
Benefits of IT-Conductor File Watcher
Eliminates the need for separate third-party applications for file monitoring, as it's integrated with IT-Conductor.

Offers easy setup and configuration.

Observes the principle of least privilege for enhanced security.

Facilitates audit compliance by monitoring file activity within your system.

Provides the ability to monitor multiple file shares simultaneously.

Monitors created and modified files, including their sizes.

Allows you to set custom threshold overrides and implement optional recovery actions.

Takes advantage of in-built monitoring and management functionalities within IT-Conductor, such as reporting and automation.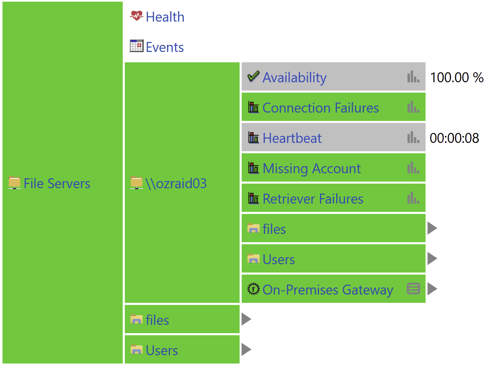 Figure 6: Windows File Share Monitoring
News
IT-Conductor now supports SAP on RISE: We are thrilled to announce a significant update to our IT-Conductor Cloud-based Application Management solution on the SAP Store. In addition to its existing capabilities, IT-Conductor now proudly supports SAP on RISE, delivering an even more comprehensive solution for SAP landscape management. Read more in our recent announcement: IT-Conductor Re-Energized on SAP Store for RISE and Non-RISE Customers.
Unlocking Efficiency at Lakeland Dairies: We are delighted to announce that Lakeland Dairies has successfully implemented IT-Conductor's SAP user password reset and user unlock automation. Discover the details of this collaboration in our feature: Unlocking Efficiency: Lakeland Dairies and IT-Conductor's Collaboration to Automate User Unlock and Password Reset.
Empowering Success at Zuellig Pharma: IT-Conductor's automation prowess has been harnessed by Zuellig Pharma in their SAP system Stop/Start operations. Learn more about their journey in our article: Automating Success: Zuellig Pharma's SAP Journey with IT-Conductor.