Cloud computing has gained popularity as more and more organizations realize the business value it brings to the table. As cloud adoption becomes mainstream, it is no longer a question for organizations "if" they need to migrate to the cloud, but rather, "what" their cloud-first strategy would be.
Over the years, decision-makers have mostly been looking at migrating their on-premise infrastructure to major cloud providers such as Amazon, Microsoft, and Google. Whether your business operations are running in Amazon Web Services (AWS) Cloud, Microsoft Azure, or Google Cloud, you'll most likely find it difficult to migrate everything in one go. Especially for large enterprises, you need to look at a wide range of services such as computing, network, storage, security, data migration, web hosting, and more, prior to deciding which solution works best for your organization.
Table of Contents
Is Migration to the Cloud difficult?
Service Performance Management
Manage your SAP Operations with IT-Conductor
Is Migration to the Cloud difficult?
Managing SAP systems on the cloud is no longer something new. However, not all organizations have moved forward and invested in cloud computing. Organizations understand the challenge of migrating SAP applications because most of these applications are mission-critical. Managing data and the underlying infrastructure in SAP is more complex than one can imagine. Moreover, the impact of making a wrong decision and the level of risk exposure can definitely be costly in the long run.
In our previous article SAP Workflow Automation with IT-Conductor, we discussed the challenges encountered in migration projects and how workflow automation can solve these challenges. Moreover, IT-Conductor in this article Automating Your Database Migration Strategy to the Cloud has already introduced the capability of the platform to automate database migration to the cloud. Doing so with automated migration will definitely provide lower risks for businesses, reduce operational costs and drive faster return on investment (ROI) as compared with manual migration.
As you progress your transformation efforts to the cloud, let us look at why your cloud-first strategy has to include monitoring, performance management, and automation, and how IT-Conductor can meet these demands as the patent-pending SAP Basis automation tool.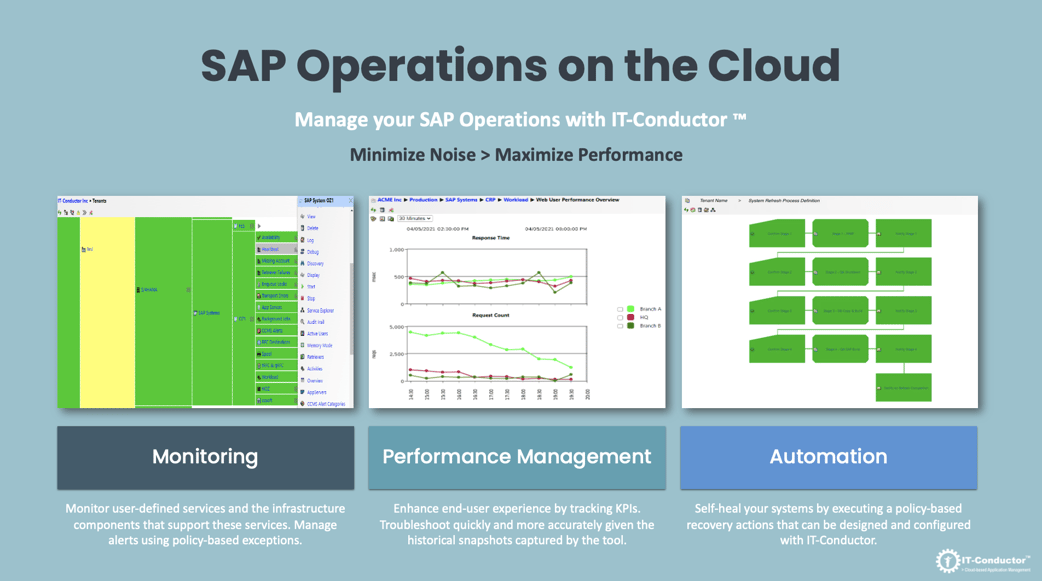 Figure 1: Managing SAP Operations on the Cloud with IT-Conductor
1. Monitoring
It is essential that any investment in IT infrastructure includes monitoring core business functions. Monitoring and maintaining complex IT systems are your backup protection in case of system failure which can cost millions of dollars if not prevented early on. Furthermore, migration from on-premise to cloud infrastructures requires application upgrades and new management tools appropriate for agile cloud-based environments. As the next-generation cloud-based monitoring and application performance management platform, IT-Conductor helps organizations minimize disruptions and get ROI in business operations with these features.
Availability Monitoring
In the context of SAP monitoring, availability information alone is ineffectual without fully knowing its relationship with your service level objectives. Having a clear understanding of how availability should be measured and what percentage overtime should it be are both significant in monitoring availability. Moreover, the availability of services can be very different from knowing whether a particular component is up/down.
IT-Conductor can monitor the availability of user-defined services as well as the infrastructure components that support these services.
Alerts Management
Enterprise Monitoring Teams (EMTs) across various industries are typically seeking the reduction of alert noise from monitoring tools and the ability to quickly identify service disruptions. To help solve this challenge, we have designed the IT-Conductor platform to manage alerts using policy-based exceptions where alerts can be filtered, time-synchronized, and automatically recovered, including targeted notification to the right analyst reducing mean time to repair (MTTR).
Instead of the IT teams receiving more than 100 alerts and responding only to a few, alerts can be filtered which in turn, reduces the time it takes to solve the issue at hand. With this ability to manage alerts, IT teams can focus more on the proactive maintenance required to fix the root cause and do the necessary equipment upgrades to prevent further damage to the whole system landscape.
Reporting
The reporting feature in monitoring tools helps users visualize data and customize reports as they see fit. Depending on the demand of business users or IT leaders wanting to see system health on a high level, dashboards and reports in IT-Conductor can be customized in several ways such as the following:
On-demand reports of charts, and tables, in multiple time intervals and periods, which can be delivered as HTML or PDF

CSV export of any metric or service hierarchy with flexible time intervals and period

Scheduled reports based on XML definitions for the services or KPI

Reports of pre-defined applications such as HANA SQL or SAP mini-check, which can be delivered to a DBA's inbox
Reporting is paramount to understanding trends and patterns from historical data. Having the capability to process timely data and generate extensive reports help both IT administrators and decision-makers make informed and evidence-based decisions.
2. Performance Management
In monitoring SAP systems, there is an imposing challenge in making sense of the data collected with regard to the end-user experience. As an application performance management platform, IT-Conductor provides a comprehensive solution capable of overseeing various applications across different environments.
Performance Intelligence
In scenarios where the user calls in for a bad performance, usually, the IT team tries to troubleshoot the root cause. However, sometimes, they are unable to do so because the data they have in the system is not synchronized with the monitoring tool. This, in turn, causes a loss of confidence among users and/or customers.
It is of utmost importance that the system is providing factual information where alerts and notifications are time-synchronized with the metrics that the monitoring tool is receiving. This allows the administrators to troubleshoot quickly and more accurately given the historical snapshots captured by the monitoring tool.
Performance intelligence in IT-Conductor involves easier comparisons between periods —whether per minute, hourly, daily, weekly, monthly, quarterly, or annually— all in a graphical format. With this capability, users will be able to easily identify and analyze discrepancies, provide agility in finding the root cause and increase client confidence in business transactions.
Service Performance Management
IT-Conductor offers a highly flexible service definition with dependencies. These services enhance the end-user experience by tracking specific sets of key performance indicators for a custom set of metrics like users, transactions, and locations. IT-Conductor also provides the service discovery of application-aware components relationships, whereby users can easily expand the service grid levels by components. Lastly, if the goals are not met, IT-Conductor can then easily configure the target availability, response times, and alert notifications. This, in turn, easily increases the capability of end-users to monitor and manage various SAP systems in different environments.
3. Automation
In our previous article SAP Workflow Automation with IT-Conductor, we discussed the benefits of workflow automation in SAP landscapes, such as end-to-end SAP System Refresh as a service. With the challenges seen in failed implementation projects, automation can be seen as a solution to lower the risks involved when performing implementation activities such as database migration.
Automating tasks in any business activity removes the burden from the administrator performing them manually and on repetitive patterns. In addition, automation enables streamlining business processes. This, in turn, helps remove unnecessary steps that do not add value to the business. Because of this, risks and operational costs are minimized and unintended profit losses are prevented from damaging the business.
Process Automation
Self-healing in IT-Conductor utilizes its SAP IT Operations Automation capability by performing policy-based recovery actions. It can be configured depending on how you want to address alerts. Self-healing automated recovery is often useful in situations where you already know the fix for common issues but you still require alerts to be generated.
Let's say, for example, you want to get notified when the archive filesystem reaches a certain threshold. When that happens, alerts will be generated until you back up the DB archive log. Self-healing automated recovery allows you to automatically trigger actions or an orchestration process to fix the issue, then close all the alerts generated whenever that alert is no longer true or if the status has returned to normal. It even has the intelligence to not repeatedly try to recover if the fix does not address the root cause, but escalate and notify the subscriber (or open a ticket in ITSM) for human intervention.
Recovery actions can also be customized depending on what you need. In the given scenario above, an SAP archive log backup can automatically be executed when the threshold is triggered, or a custom recovery procedure based on your environment.
Manage your SAP Operations with IT-Conductor
Production systems need to be up and running all the time to meet the demands of end-users. However, the underlying infrastructure can be down at any given time and may cause disruptions. Worse, it may cause your clients to lose trust and run away. Taking advantage of the comprehensive solutions through cloud-based monitoring and automation will make it easier for you to grow and be competitive.
IT-Conductor offers a holistic approach to application performance management where the services are highly customizable and adaptive to your business needs.
With an efficient agentless way of monitoring operating system resources, the ability to manage alerts, and provide context on data charts for immediate root-cause analysis and troubleshooting, we can help you manage your SAP operations on the cloud to ensure you are providing an efficient and essential solution to your clients.