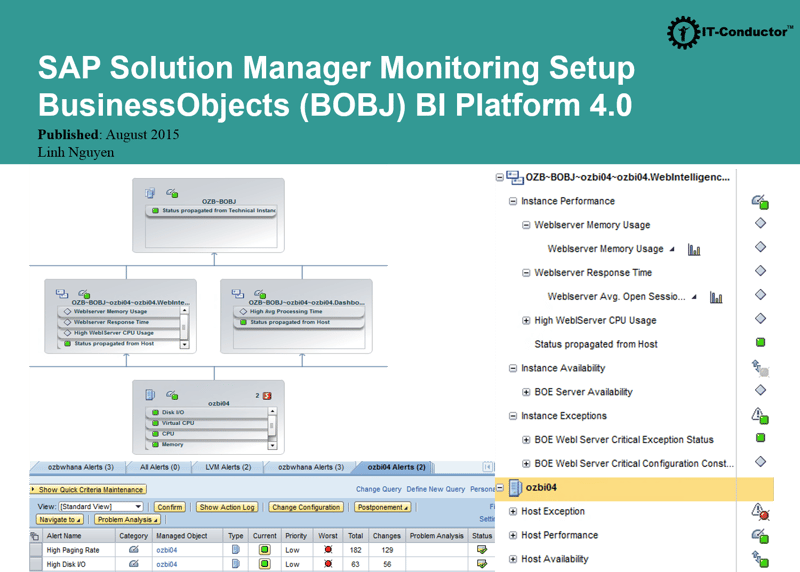 This last part we will hook up the 2 components of a SAP BOBJ BI 4.0 environment to the SAP Solution Manager, using Managed System configuration and Technical Monitoring by assigning the products and logical components.
To recap the other 2 parts leading up to this final setup, we completed:
SAP Solution Manager Technical Monitoring - BOBJ BI 4.0 Part 1 of 3 (Installation of Diagnostics Agent)
The technical monitoring itself is the simplest part after all the ground work have been done. It simply consists of choosing the monitoring scope for the BOE and the Tomcat web application server, based on the systems and templates that you already set up. We are using default thresholds out-of-the-box, so typically in your environment you would need to plan another phase to configure thresholds, notifications and any downstream integration such as service desk functionality. We recommend those to be done over a period of time with actual learning from the behavior of actual systems in use, typically with some representative test or production workload. Managing alerts, thresholds and notifications is normally an iterative process, however there must be at least a general service level defined for IT operations to implement the policies and procedures which address overall performance and availability objective of the environment.
IMPORTANT: note that Solman does not show the details of the alerts in the inbox, and still requires one to navigate to the managed system to troubleshoot the alerts (without time-sensitive context because one still has to find the alert/event, if it still exists in the managed system when one performs the analysis). Alerts in Solman are a form of aggregation on events or metrics. It is still very hard to find the root-cause or context of the problem or do any kind of correlation!
Here are the final configuration steps and SAP BOBJ monitoring screen of alerts and metric monitoring.
If you have additional environment such as SAP BPC (Business Planning & Consolidation) either with SAP Netweaver or Microsoft platform, there's many more configuration to be done to set up Solution Manager to monitor them.
---