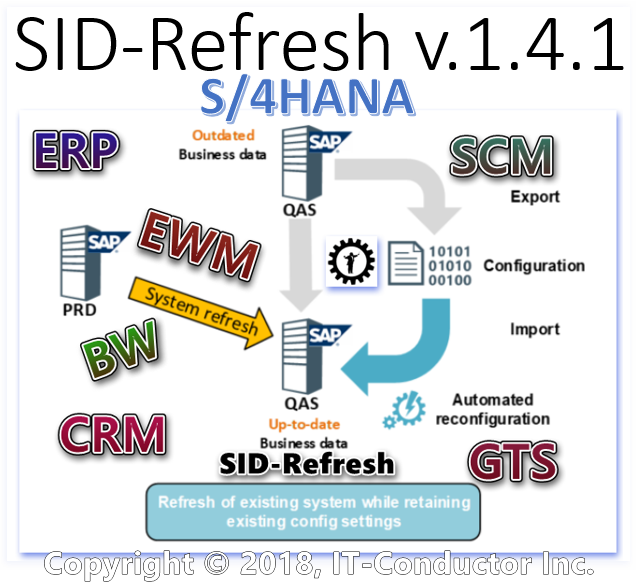 Figure 1: System Refresh Process
Announcement
As of May 1 2018, we have released an updated version 1.4.1 adding S/4HANA support to the list announced in February, 2018 (v1.4) where technical configurations included: ALL Netweaver ABAP instance TYPEs (BW, ERP, HR, CRM, SRM, SCM, GTS, WEM). It is offered as a subscription service included FREE in our monitoring, or for separate subscription. If interested, please Submit an Inquiry or visit the SID-Refresh Solution Page for further details on cost, and user guide.
"With SID-Refresh we save a lot of time, exporting customizing settings before a SAP System database refresh, and even more, when restoring them, after the copy: the tool rebuilds the selected customizing settings in a safe way and prevents possible mistakes coming from manual changes."
Dino Dose, Team Manager @ BGP Technology
Introduction
For background in SID-Refresh please visit our past articles:
In the last year we've seen more demands for SAP system refreshes due to upgrade cycles and/or migrations to new platforms (including cloud, OS and DB). SAP Basis teams are stretched thin between project needs for DB refreshes. While there have been improvements for cloud, virtualization, storage technology, and vendor tools for system copy, the basic issue is still performing post-copy technical configuration in the refreshed system. Tools such as SAP LaMa (Landscape Management), which is the new name for SAP LVM (SAP Landscape Virtualization Manager), are costly and requires yet another SAP installation. IT-Conductor has maintained the elegant, efficient and affordable subscription solution for your post-copy automation needs.
FAQ - SID-RefreshTM
SID-Refresh is a basis automation tool designed to simplify, automate, and optimize the process of updating the 'technical data and configuration'. It has the following advantages:
Additional hardware is not required.

Minimal resources for implementation and operations

No major changes in the existing landscape

Easy implementation with minimal process

Can be deployed on platforms that use different Operating Systems and Database

It's an Automated process

Minimizes Downtime

Increased integrity
General
What

SAP ABAP Systems

can SID-Refresh support?

Post activities for ALL Netweaver ABAP instance TYPEs (BW, ERP, HR, CRM, SRM, SCM, GTS, WEM, Solman)

Customer-specified Config Tables: Can custom tables be added to the list for export/import?


Yes. This is for expert, customer understands and takes responsibilities for tables they specified.

Basis Table Cleanup: Can some Basis configuration tables be cleaned up?

Yes, below is a list of 'technical data and configuration' that may be cleanup using SID-Refresh


Cleanup of Operating System Monitoring Data (ST03N)
Cleanup of CCMS Configuration (RZ20, RZ21)
Cleanup of CCMS History (CCMSHISTORY)
Cleanup of Selected ABAP Basis Tables (OTHERS)
Cleanup of DBA Cockpit Configuration (DBACOCKPIT)
Cleanup of RFC Inbound Queue Configuration (SMQ2)
Cleanup of RFC Outbound Queue Configuration (SM58, SMQ1)
Cleanup of Background RFC (SBGRFCMON)
Cleanup of SAPconnect Data (SCOT)
Cleanup of Spool Requests and Logs (SP01)
Cleanup of TMS Configuration (STMS)
Cleanup of Batch-Input Data and Configuration (SM35)
Cleanup of Web Service Configuration (SOAMANAGER)
Cleanup of Integration Engine Runtime Data (SXMB_ADM)
SAP Technical Data and Configuration Support
Below is a list of 'technical data and configuration' that may be exported/imported using SID-Refresh. Note that selected options are saved on initial use, and can be reused on subsequent execution of the refresh.
ALE Configuration
ALE Customizing
Archiving ADK Configuration
Archiving Customizing Configuration
Archiving Objects Configuration
Batch Jobs (SM37)
Report Variants
Batch Server Groups (SM61)
CCMS Configuration (RZ20, RZ21)
CCMS History
DBA Cockpit Configuration (DBACOCKPIT)
Additional DBA Cockpit Config. for Oracle
Operating System Commands (SM69)
Cross-Client File Names/Paths (FILE)
SAP License (SLICENSE)
Logon Groups (SMLG)
Operation Modes (RZ04)
Spool Configuration (SPAD)
System Profiles (RZ10)
RFC Connections (SM59)
RFC Inbound Queue Configuration (SMQ2)
RFC Outbound Queue Configuration (SM58, SMQ1)
Background RFC (SBGRFCMON)
SLD Data Supplier Configuration (RZ70)
SAPconnect Configuration (SCOT)
HTTP Service Configuration (SICF)
SLD Access Data Configuration (SLDAPICUST)
Update Program Administration (SM14)
Security Audit Profile Configuration (SM19)
Trust Manager Configuration (STRUST)
SNC Access Control List (STRUSTSSO2)
TMS Configuration (STMS)
TMS Quality Assurance Configuration (STMS)
Version Management
Virus Scan Definitions (VSCAN)
Web Service Configuration (SOAMANAGER)
Test Workbench Configuration (CATT, eCATT, STWB)
Internet Transaction Server Config. (IACOR, ITS)
Project Customizing (SPRO)
Client Configuration (SCC4)
Integration Engine Configuration (SXMB_ADM)
SolMan Configuration in Managed System
ChaRM/CTS Configuration
Service Data Control Center Configuration (SDCCN)
Service Data Control Center Download Data (SDCCN)
Login Screen Information
Initial Screen Configuration (SMW0)
Lock/Unlock Users (EWZ5)
Batch-Input Data and Configuration (SM35)
SAP NetWeaver Workflow Configuration (SWU3)
SAP NetWeaver LDAP Configuration (LDAP)
Secure Store (SECSTORE)
SAP Office Configuration (SBWP)
Customer Defined Configuration Tables (CUSTOMER)
CRM Middleware Configuration
CRM Plug-In Configuration (CRM/ERP)
CRM Integration in ERP
CRM Component Configuration

CRM Analytic Component Configuration
CRM Interaction Center Component Configuration
CRM Marketing Component Configuration
CRM Miscellaneous Component Configuration
CRM Field Applications (Mobile) Component Configuration
CRM Sales Component Configuration
CRM Partner Channel Management Component Configuration
CRM Service Component Configuration
CRM Web Channel Enablement Component Configuration

CRM WebClient Configuration

Define transaction launcher and IC WebClient
Communication Management Software Connections

SRM Component Configuration'

Technical Basic Settings
Settings for Supplier Synchronization
Activate Users

SCM Basis Integration Configuration

Activation of Incremental Data Transfer
Distribution Definition Maintenance
Generation of Distribution Definitions
Maintain Business System Group
Assignment of Logical System and Queue Type
Activation of CIF Error Handling
Assignment of RFC Destinations to Application Cases
User Parameters

SCM Server Integration Configuration
Remote Control and Communication Framework Configuration
SCM Configuration in ERP

Basic Settings for Setting Up the System Landscape
Basic Settings for the Data Transfer
Application-Specific Settings and Enhancements

GTS Component Configuration

SAP Compliance Management
SAP Customs Management
SAP Risk Management

EWM Server Configuration

Master Data Settings
Batch Management
Goods Issue Process (Work Center)
Printer Settings
Others Settings

EWM Interface Configuration RFID

Settings - mandatory
General Settings for ERP - mandatory
General Settings for ERP
Delivery Processing for ERP
Goods Movement
Transportation
General Settings for GTS - mandatory
General Settings for GTS
Non-SAP Systems
Availability Check
Migration from LE-WM

BW Configurations
Future Plans
We are planning to integrate SID-Refresh into IT-Conductor cloud monitoring and automation platform to enhance flexibility of configuration, monitoring of source and target systems as well as the refresh process, centralized control of the refresh process including tasks that would traditionally be done for OS and DB, such as BDLS for logical system changes.