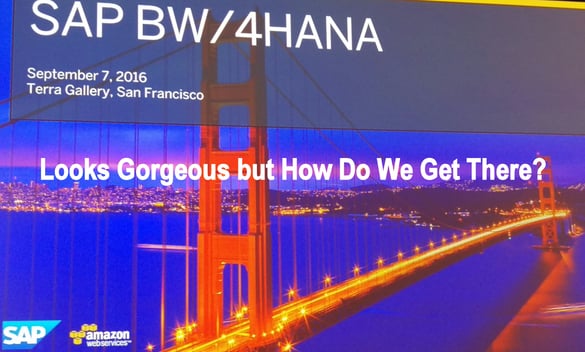 BW Migration to HANA
Today, I was at the SAP BW/4HANA official launch in gorgeous San Francisco when SAP announced the immediate release to customers as of September 7, 2016. SAP calls it 'The Next-Generation Data Warehouse', coinciding with with the event's co-sponsor AWS who just achieved the latest SAP HANA certification for the X1 instance being able to scale out HANA to 14 TB systems. Early customers' live testimonials included Fairfax Media from Australia, and ConAgra Foods, Colgate was on stage also, who has been a long time SAP and BW customer (since I installed the BW 1.0 back then for them - Yes folks, I was there!) currently still on BW on HANA. The live demo was indeed gorgeous, but the questions still remain "How do we get there?".
Well, if you've been reading our blogs, you would have realized that we've already documented the process of getting BW on anyDB to BW on HANA. Of course, each customer's journey will be somewhat different just as everyone who wishes to visit gorgeous San Francisco may take different paths depending on where they are coming from, the time they have, the resources and means available to them. As per SAP BW/4HANA product page, the Transition journey options include the following, of which we're dealing mainly with System Conversion that is largely based on SUM DMO we've described.
The SAP BW/4HANA implementation for customers new to SAP's integrated data warehousing technologies will benefit from intuitive modelling and eclipse interface.
Bring data from your old system to SAP BW/4HANA with our integrated data management and quality tools
If you have an SAP landscape over five years old, it's time to consider a fresh start
Leverage a modern data warehouse, without modifications or work-arounds of the past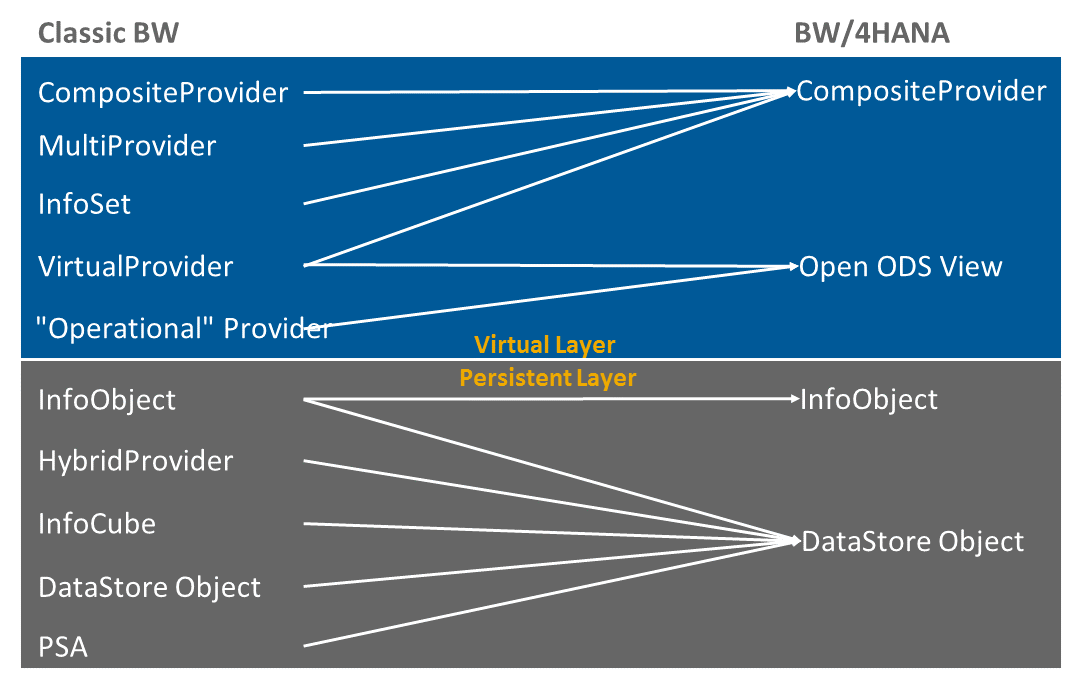 BW/4HANA Less Object Types (Courtesy: SAP SE)
The effort for the system conversion is largely proportional to the duration since the last major system update, the number of classical data models, and the amount of actively used custom coding.
Complete conversion of an existing SAP Business Warehouse system to SAP BW/4HANA
If your current SAP landscape has been highly maintained (SAP BW, powered by SAP HANA), you can convert to SAP BW/4HANA
Simplify your system landscape to carve out selected processes/functions, moving gradually to SAP BW/4HANA innovations. Improve merger and acquisition activities by consolidating rapidly, delivering predictive capabilities.
Ideal for large enterprises with many instances of SAP and non-SAP BW systems
Consolidation into one global SAP BW/4HANA system or selective data migrations
---
Here are the 3 parts: