---

INTRODUCTION
Ever want to collectively view many KPI's across multiple SAP systems and infrastructure components, even across many sites or locations? It's always been a challenge to do so, especially to monitor SAP, analyze or trend performance end-to-end and see the big picture at the same time. It's a best practice to use such capability in an application performance management (APM) tool as we discussed in our 10 Ways to Better Application-Centric Service Management Best Practices. Recently in our first IT-Conductor Newsletter February 23, 2017 edition, we announced the availability of a feature to Save Custom Service Charts (KPI's). The ability to see KPI's across multiple monitored services had been there for years, but recently we allowed users to save and view them, and even schedule reports for them as a Saved Service Health Chart.
USE CASES
We have found the application of such Saved Custom Service Charts to be very useful for scenarios below:
Performance Test Monitoring
Performance Test Reports
Adhoc Report of Overall Service Health
Scheduled Report of Overall Service Health
Performance Analysis
Root-cause Analysis
Chart Examples
Single System with Multiple Application and Infrastructure Components
For instance, BW on HANA displaying monitors across:
Availability of BW service
Application server Dialog DB Request Time
Application server Dialog Users Logged In
Application server Dialog Response Time
CCMS Alerts in Time Intervals
HANA Alerts in Time Intervals
Availability of HANA SID service
HANA Service Utilization CPU, Memory
HANA Service Response Time
HANA Service Running Threads
HANA Data Volume Space Utilization
Linux CPU Utilization
Linux Free Memory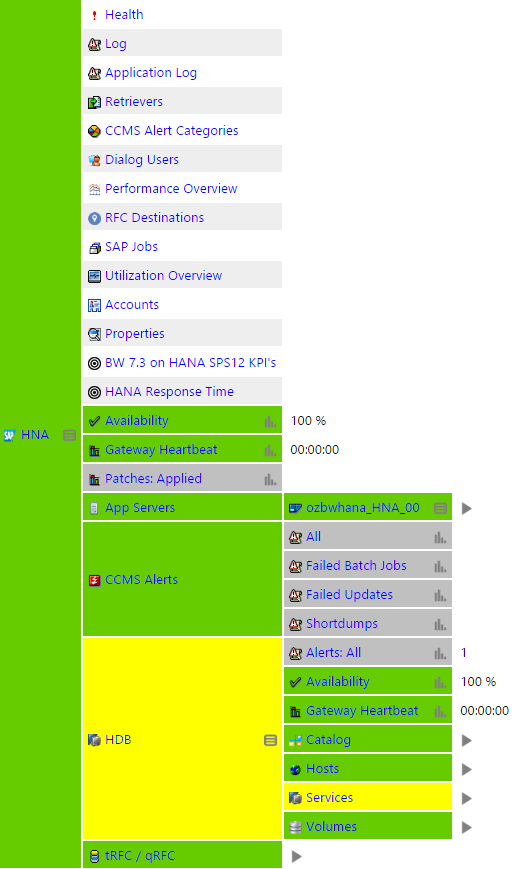 A sample report, either adhoc or scheduled can be generated and delivered in HTML or PDF.
Multiple Systems
For instance, BOBJ reporting performance connected to BW on HANA datasource and ECC transaction backend
BOBJ Availability
BOBJ Alerts in Time Intervals
BOBJ Probe Performance
BOBJ Enterprise Nodes Performance
BW on HANA KPI's (see above example for Single System)
ECC Transactional Response Times for specific TCODEs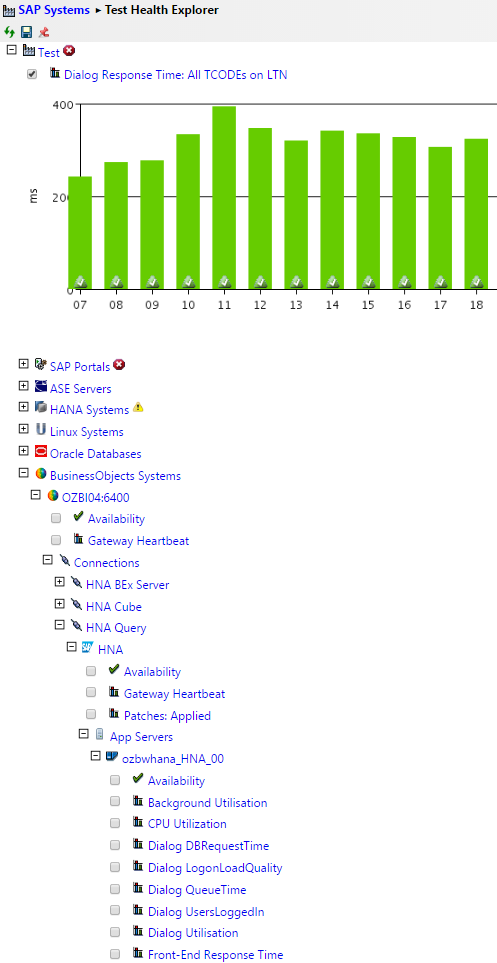 IT-Conductor SAP Monitoring Health Explorer for KPIs across Multiple Systems
---
Multiple Sites
For instance, on-premise systems connected to cloud applications. The example below indicates a high level company wide IT health services which include cloud, on-premise and cross-applications hierarchy that could have a composite set of KPI to view availability and performance across any monitor of interest.

Service Hierarch Available for KPI creation across Boundaries
SUMMARY
Innovation of APM intelligence has brought IT-Conductor to continually create and provide agile cloud services. The solution helps organizations manage complex enterprise application environments across boundaries of technical silos as well as locations. The next-generation SAP monitoring solution as a service is bridging the gap in enterprise application performance management.
---
Looking for an integrated solution to help with many of the SAP Performance and Availability management needs? Try IT-Conductor, engineered as a cloud-based SAP Performance management and monitoring platform. We also offer SAP Performance management as a Service!
---