---
This week we look into configuring the S/4HANA Monitoring scenario as the final part of the Solman 7.2 SAP Monitoring installation and setup procedure. You can download the complete SAP Solution Manager 7.2 Getting Started with Monitoring eBook below if you choose to set up your own environment. Prior parts are listed below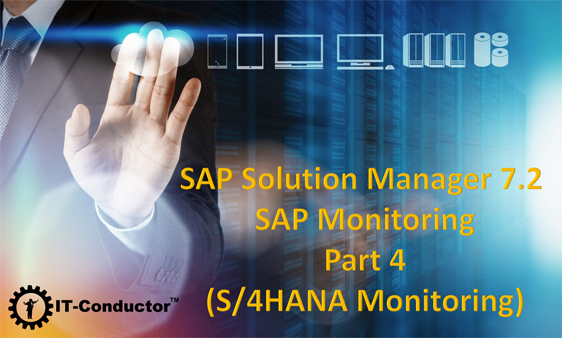 In summary of our efforts, here are the main points:
Solman 7.2 Technical Monitoring has not changed since Solman 7.1, only the GUI has!
Solman 7.2 System Monitoring is a project, not a simple task, which involves:
Planning, budget, time, resources (Solman as well as the managed infrastructure)
Installation of Solution Manager, upgrade, patches
System Preparation including BW store, SLD, LMDB, Introscope, Life Cycle Managers
Basic Configuration: Solution Manager Diagnostics Agents, Host agents and connectivity
Managed Systems Configuration: discover agents, assign products
System Monitoring: scope of systems and report
Search Engine: TREX installation is needed for non-HANA databases
Solman is a mission-critical enterprise application with full IT landscape requiring dedicated management of:
Systems, software, components, connectivity, knowledge, and team.
In return, you get automated aggregation of alerts, metrics and chart.
For historical metrics, you need to configure BI
Effort Comparison:
Installation of Solman 7.2 took more effort than Solman 7.1, mainly due to Solman 7.2 having HANA option, separate JAVA stack, and TREX search engine requirement if you don't choose HANA
In this example we set up Solman to monitor an S/4HANA environment, total effort (60 hours – Solman Installation & Setup, 20 hours Managed System Configuration). The effort excluded infrastructure cost and setup, and without TREX search engine (we may cover this in a later blog for non-HANA)
In comparison, IT-Conductor took less than 1 hour to configure and monitor S/4HANA using cloud-based SaaS platform, no infrastructure required: https://www.itconductor.com/blog/cloud-based-sap-monitoring-of-s4hana-on-azure
SAP Monitoring as a Service:
Irrespective of what version or platform you have for Solman, every customer's Solution Manager should be monitored as a business critical environment for optimal availability and performance. IT-Conductor can be used in this scenario 'How to Monitor SAP Solution Manager': https://www.itconductor.com/blog/how-to-monitor-sap-solution-manager especially if you choose to upgrade Solman or have lengthy Solman deployment and need alternatives
Get the latest SAP & HANA Monitoring Comparison
What if you just need help with SAP Basis and/or Solution Manager?