Manage and monitor your SAP environment efficiently and effectively. Learn what's the latest with IT-Conductor as an SAP Monitoring Solution in 2021.
For many years, SAP has been helping several organizations enable communication and information interchange across cross-functional teams. With its mission-critical role in business operations, SAP systems should be monitored daily. Given that many processes and systems are running altogether, monitoring SAP systems came off as something labor-intensive and time-consuming. But if you know what to check and what tools can be helpful for your organization, SAP monitoring gets better over time.
When SAP introduced the Cloud Application Programming Model (CAP) in 2018, defining the best practices to focus on domain problems had been the key to the golden path of creating this new model. The focus on developing initiatives to automate time-consuming tasks has shifted the direction of organizations from merely avoiding downtime to providing more value to the business.
2021 in Focus: Smart Automation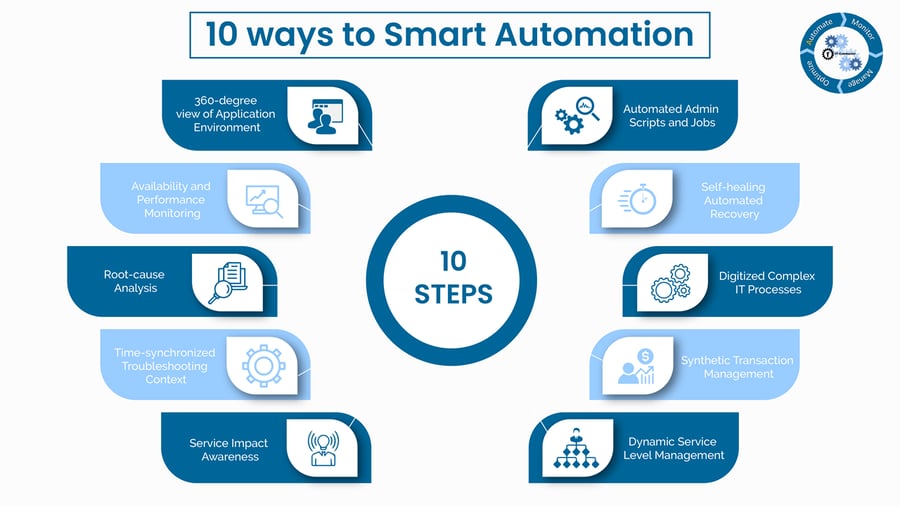 Figure 1: 10 Ways to Smart Automation
Up to this day, continuous automation efforts are being rolled out across several organizations. When it comes to SAP monitoring solutions, organizations must consider a platform that can orchestrate complex IT operations to get more things done. This denotes an improvement in the capability of SAP Basis teams to manage and monitor an SAP environment efficiently and effectively.
Previously, we wrote about:
Ease of Implementation & Maintenance

Performance Metrics & Collection Methods

Availability Monitoring

Thresholds Management

Notification

Recovery Actions

Reporting

Service Monitoring

Process Automation
In this article, let's look at some of the automation scenarios that you can implement in your organization:
1. E2E SAP System Refresh Automation with SID-Refresh
System refresh is simply refreshing a system by overwriting an existing target system with the latest data from a source system without altering the system configuration. If you think about it, it is a simple task that requires no more than a few steps but if not done correctly, it can become complex and error-prone, especially when performed by constantly changing members in an SAP Basis Team.
At IT-Conductor, we are all about simplification. So, we came up with a solution to lower, or even eliminate the error rate when performing a system refresh. Also, the fact that it needs to be performed every 3 months, we are saving the Basis community members from allocating endless hours to this repetitive administrative task.
Learn more about Simplifying the SAP System Refresh with SID-Refresh.
2. SAP/HANA Provisioning Automated Workflows
We know how tedious it is to deploy applications in production. From planning, and risk assessment, up to executing the actual deployment, provisioning usually takes up months to implement. The same is true for provisioning SAP/HANA. Depending on factors such as the current product version of source systems, how many users exist, what operating model will be used, etc., provisioning requires the business to plan out a strategy before deciding to migrate.
These pain points were taken into consideration when we developed the capability to automate the provisioning of SAP/HANA to the cloud. While the planning, risk assessment, and other business-related discussions should still take place within an organization, we came up with a solution to help alleviate the mentioned challenges that our customers will go through should they decide to finally migrate.
Using Terraform, Ansible, and other GIT repository templates our team of experts has developed, it will only take you a few clicks to execute the provisioning of SAP/HANA to the cloud. We have utilized IT-Conductor as the main automation engine to pull scripts from the GIT repository and run jobs via Terraform or Ansible.
Learn more about Unifying the GIT/Terraform/Ansible Workflow through IT-Conductor Agentless Platform.
3. Automated OS/DB Migration to the Cloud
Speaking of migration, we have recently published an article about Automated Database Migration. In the article, we mentioned the use of process definitions and IT-Conductor activities in automating the database migration from the on-prem environment to the cloud. Similar to SAP/HANA Provisioning, OS/DB migration will only take you a few clicks.
Get Started with IT-Conductor
It's great to know that you are looking into how you can improve SAP monitoring within your organization. We understand that it can be overwhelming to start right away. That's why our experts are here to show you how you can get started.
Learn more about the Ten Ways to Smart Application Performance Management.
Making Informed Decisions
There are endless possibilities with IT-Conductor, but we also want to guide you in selecting the tool that will best fit your organization because we know that what may seem to be an obvious choice for SAP customers really isn't as obvious.
As you might have already seen in one of our blog posts, we came up with a matrix that you can use when deciding on "What SAP monitoring tool should you use?". We had some updates to include the automation scenarios and some minor additions to the existing SAP monitoring tools for comparison. We also added information about the solutions by Nagios XI.
Feel free to download the file above and get in touch with us if you have any questions.